July 7, 2011 – Allen Moll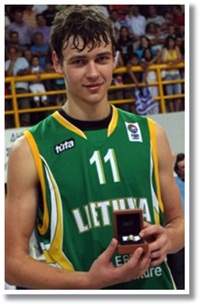 With the 2011-2012 NBA season in potential jeopardy because of the current lock-out, surely a number of European players selected in the 2011 NBA Draft will chose to remain overseas to play for their most recent International teams.
Contrary to the usual stereotype of the International player, this year's crop of non Americans, led by Jonas Valanciunas, Jan Vesely, Bismack Biyombo and Donatas Motiejunas, are better than the average overseas prospects and could prove to be decent, if not spectacular, pros one day.
Toronto already knew that top rated international prospect Jonas Valenciunas, taken at #4, was going to remain in Europe for at least another season, maybe two, until he deems himself ready for NBA competition. Prior to the lock-out, Charlotte was working feverishly to come to terms of involving a buy-out of Bismack Biyombo's contract in the ACB League, and Jan Vesely may not have suited up for the new look Wizards anytime soon.
Now word comes out of the Houston Chronicle, that Rockets promising big man Donatas Motiejunas, whom many have compared to Dirk Nowitzki, will remain in Europe for another season.
Here's Motiejunas original statement:
I still have a contract with Benetton," said Motiejunas, the 20th player taken in the NBA draft. They told me if I want to leave in the middle of the season when the team that took me, Houston, wants me, they would let me go. That will be no problem.

That's why I'm happy, and a little bit sad. The situation is very tough right now. I don't really want to go away from the team. I'm not happy about that. That was one of the greatest things that happened in my life, that this team picked me.
If you remember, Motiejunas withdrew from the 2010 NBA Draft amid concerns of a lack of strength in comparison to current NBA bigs. At that point he was widely considered a Lottery selection but decided to withdraw anyway. He added 10-15lbs of muscle and starred in a 6th man role for Benetton Treviso last season but still slid to the 20th overall pick after having a supposed lackadaisical and uninspiring workout for American scouts in Treviso.
Motiejunas is a 7 foot, 220lb scoring forward that excels in shooting from the perimeter. He has a much improved post game, consisting of jump hooks and up-and-under moves but has little post presence to this point and still favors his left hand. Barely into his 20's, he could develop into an offensive minded starter with some seasoning in the mold of Dirk or Andre Bargnani.
I don't know why but he sort of reminds me of Ivan Drago, the steroid raging Russian from the movie Rocky IV.
Motiejunas challenges Dwight Howard at his first press conference:
Allen Moll has been a lifelong NBA and NCAA College Basketball fan who watches and studies games religiously, and coaches youth basketball in his native Lehigh Valley region of Pennsylvania.  Allen also provides content to Bleacherreport.com, Upperdeckblog.com, in addition to being a tenured NBA and NCAA columnist for TheHoopDoctors.com.