July 25, 2011 – Dane Carbaugh
In 1997 Elliot Perry was a freshly traded point guard, making the switch from sunny Phoenix to frosty Milwaukee in exchange for Marty Conion and a conditional First Round draft pick (later traded to Cleveland which became Brevin Knight).
Known for his Walt Williams-esque flair for knee-high foot protection, Perry earned the nickname "Socks" during his tenure in the NBA. In the 1996-97 season Perry played in all 82 regular season games but started in just three of them. Socks sat behind Sherman "The General" Douglas on the depth chart and ended up averaging just 6.9 PPG, 3 AST and 1 REB while maintaining a respectable 15.2 PER.
Perry's tenure in the NBA wasn't exactly easy. After being drafted in the First Round of the 1991 NBA Draft by the Los Angeles Clippers he was waived, then signed by the Charlotte Hornets. Perry spent stints in the CBA as well as time with eight NBA teams over ten seasons. His most notable accomplishment was coming in second place to Boston's Dana Barros for Most Improved Player during the 1994-1995 season as well as scoring a personal-best 35 points in a game against the Rockets in 1996.
Socks' card here is a peculiar example of the team at Upper Deck getting a little too cutesy for their own good. Hanging out in a clawfoot tub full of clean gym socks isn't the most ridiculous idea for a professional basketball card but I have to think that it's right up there. Thank goodness that photographer wasn't on-hand the day Sidney "The Squid" Moncrief showed up to pose for his shots.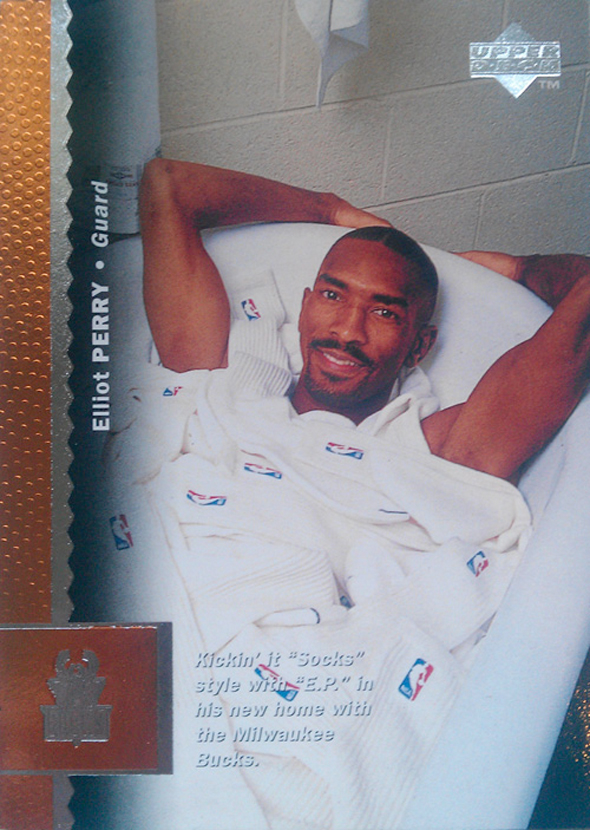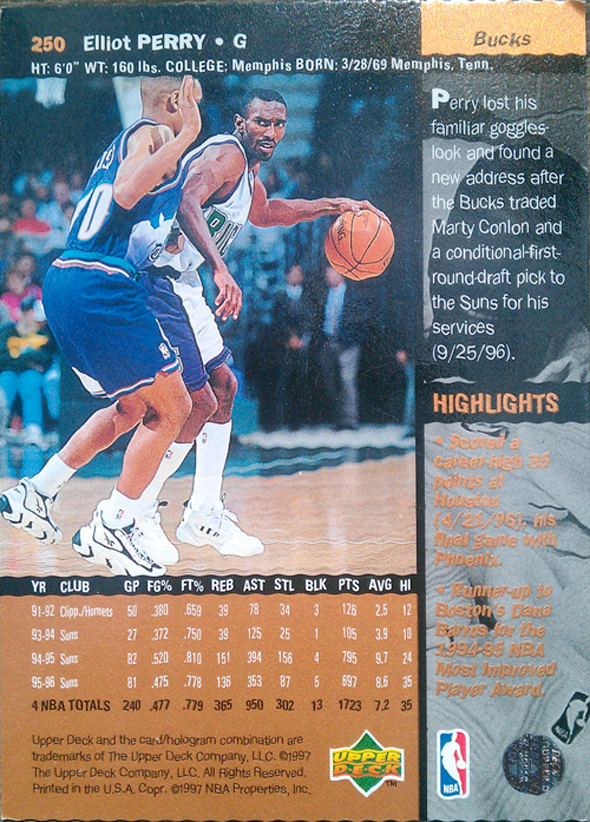 The newest edition to The Hoop Doctors writing staff, Dane Carbaugh is the editor and lead writer of the popular new basketball blog A Young Sabonis. Dane is a published research author and also writes for Dime Magazine and the ESPN TrueHoop Affiliate Portland Roundball Society. He can be found on Twitter at @DaneCarbaugh