July 7, 2011 – Allen Moll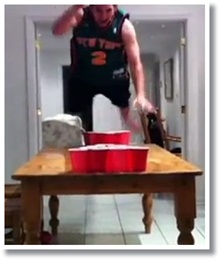 Everyone loves an old fashioned game of Beer Pong, especially while tailgating or at a great party. Despite the game's origins back in the late 1950's, it has really taken off in popularity recently, as it is even played competitively or used in determining bragging rites when battling against opposing frat houses or even a rival university.
The game was originally called Beirut and has been traced to it's beginnings at Dartmouth University nearly six decades ago when some bored frat boys dreamed up a contest similar to ping pong but involved paddles, tiny balls, and cups filled with liquid. While the paddles were eventually phased out, the cups lined up in triangle formation and filled with beer, the game wasn't officially given the moniker of "beer pong" until the 1980's, and has remain unchanged for virtually 3 decades.
That's until now. Some innovative NBC interns and students from Penn State have figured out how to merge everyone's favorite drinking game with basketball by having an impromptu dunk contest right on top of their dining room table.
If you think it sounds dumb, well it is, but it's also very entertaining as score is kept with players given points for style, creativity, and power. The piece aired on TNT coming out of a commercial during the 2011 NBA Playoffs but I doubt many have seen the footage.
At least the contestants are keeping it real as one can be seen wearing a Nate Robinson NY Knicks #2 jersey, which he later changed to #4, and the audio track of Nate's now memorable dunk over Spud Webb playing in the background. All they need is Dr J as a judge.
Check out the Beer Pong Dunk Contest:
Allen Moll has been a lifelong NBA and NCAA College Basketball fan who watches and studies games religiously, and coaches youth basketball in his native Lehigh Valley region of Pennsylvania.  Allen also provides content to Bleacherreport.com, Upperdeckblog.com, in addition to being a tenured NBA and NCAA columnist for TheHoopDoctors.com.