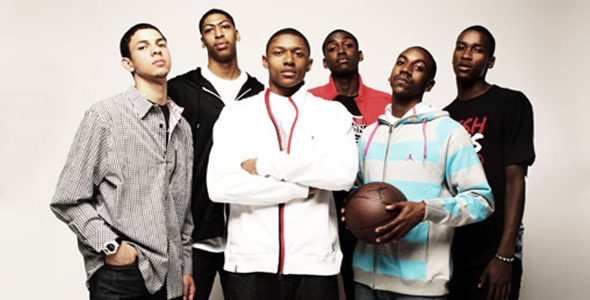 June 9, 2011 – Allen Moll
As the collegiate game continues to be a one-and-done type affair, nothing means more to a program than recruiting. More than X's and O's, a school's head coach better be able to recruit top notch high school talent or be left wondering why their squad didn't make the final cut for March Madness.
NCAA Division I coaches like John Calipari at Kentucky, Thad Matta at Ohio State, and Rick Barnes at Texas annually get the best recruits on campus, instantly injecting youth and athleticism into their program. Last season, Calipari had the top ranked recruiting class in the nation led by Brandon Knight, Terrence Jones, Enes Kantner, and Doron Lamb who helped lead the Wildcats all the way to the Final Four.
In 2011 and for the 3rd consecutive season, Calipari and the Wildcats have reeled in the #1 HS Class behind 4 players all ranked among the Top 20 prospects in the nation, led by ESPN's #1 ranked player Anthony Davis. Cal arguably may have landed the best incoming class in history, with the #1 rated PG, SF, and PF, along with Top 20 rated and sweet shooting big man in Kyle Wiltjer, all on campus for next season.
Just missing the cut were three Big East schools Pittsburgh, Rutgers, and Villanova who once again have done well replenishing their rosters for the upcoming season. Pitt boasts a 4 man class highlighted by elite level big men Khem Birch and Malcolm Gilbert while Nova brings in some great all around depth at a number of positions led by elite level PG Tyrone Johnson. Despite securing a talented 7 man class of homegrown NJ area talent, Rutgers just missed the rankings after top recruit PF Kadeem Jack reclassified into the 2010 Class by enrolling in classes this Summer, taking a redshirt season.
Here are my Top Ten NCAA Recruiting Classes for the 2011-2012 Season(ESPN Rankings):
1) Kentucky
SF – Mike Gilchrist(3)
PG – Marquis Teague(7)
PF – Kyle Wiltjer(18)
For the 3rd straight season, John Calipari has flexed his recruiting prowess. This time he has outdone himself by securing as talented a crop of prospects as we quite possibly have ever seen with all potentially being impact starters on any team in the nation. Leading the group of talented youngsters is the 6'11 Anthony Davis, who overtook Austin Rivers late, to finish as the #1 ranked prospect in the nation. After developing guard skills in his first 3 years in HS, Davis has grown 7 inches prior to his senior season and has grown into being a multi-talented elite level big man, capable of dominating a game from either side of the ball. Gilchrist is a defensive oriented, yet high scoring forward that brings leadership and grittiness to the Cats as the #1 ranked SF. As the nation's top ranked floor general, Teague gives Calipari more of the highlight reel variety PG in the mold of John Wall, who takes it to the rack better than anyone in the class. As possibly Kentucky's most versatile newcomer, Wiltjer is a 6'9 and 230lb big man who has an elite level inside/outside game that will someday make him an NBA player.
2) Duke
SF – Michael Gbinije(28)
C – Marshall Plumlee(34)
PG – Quinn Cook(37)
SF – Alex Murphy(40)
Coach K has done well replacing his Top 2 scorers gone from last season with arguably the best scorer in the class in Austin Rivers and four prospects all ranked within the Top 40 in the nation. Rivers has the pedigree and ability to be a star from the onset, possessing the most NCAA ready skill set of any prospect. Gbinije is a multi-talented wing with a complete game while center prospect Marshall Plumlee may be the most complete Plumlee brother on campus next season. 4 star PG Cook proved to be top notch floor general at the highest level in HS but getting former class of 2012 Top 10 rated Murphy on campus a year early may help ease the loss of program stalwart Kyle Singler for next season.
3) St John's
SF – Jakarr Sampson(31)
SF – Maurice Harkess(38)
SG – D'Angelo Harrison(63)
C – Norvel Pelle(76)
SF – Amir Garrett(97)
PG – Phil Greene
PG – Nurideen Lindsey(JUCO)
PF – God's Gift Achiuwa(JUCO)
Coach Lavin has hit the ground running in only his 2nd year with the Red Storm by securing an amazing 9 player class filled with depth and star power from both the HS and JUCO ranks. While there are some questions as to whether Harkess will be eligible by season's start, Sampson, Harrison, one of the nation's top scorers, and the #2 ranked JUCO player Lindsey will provide offensive punch from the backcourt. Garrett is one of the most entertaining high flyers in the class, while Pelle will make an immediate impact as an athletic and dominant, defensive minded big man. But the real gems of the class are the multi-talented wing Sir Dom Pointer, who could shortly become one of the Big East's best players and forward Achiuwa, one of the most sought after JUCO prospects this off-season.
4) Arizona
SG – Nick Johnson(21)
C – Angelo Chol(60)
PF – Sidiki Johnson(92)
While most would agree that basketball on the West Coast has been down over the past 2 years, 2nd year head man Sean Miller is doing his best to once again bring the Wildcats back to prosperity behind an impressive 4 man class. With the unexpected transfer of PG Momo Jones, elite level PG Turner should get major minutes at the point. He is an immediate impact player that knows how to score and could be one of those freshman sensations from day one. Combo guard Johnson is an under the radar player that not many are talking about but dominated opposing back-court players as a two way stand-out at Findlay Prep. The ever improving and super athletic Chol solidifies the center position defensively while the 6'8 Sidiki Johnson is a versatile low post player who will do his best to replace the NBA Lottery bound Derrick Williams.
5) Louisville
PF – Chane Behenan(27)
C – Zach Price(56)
SG – Kevin Ware(94)
SF – Angel Nunez
Coach Pitino has done a tremendous job at the 'Ville without having the nation's most talented players. This year will be different as he brings in 5 freshmen, all of which will make major contributions this season. The true game-changer is Behenan, who at 6'7 and 240lbs, is a strong, physical PF that excels at scoring in the painted area and rebounding the basketball. The front-court is further bolstered by 4 star center Price, who fills the void left by the surprise departure of Terrence Jennings. Blackshear is an elite level scorer and will become Pitino's go-to-guy from the perimeter while Nunez provides depth from the wing. The late signing of Ware, one of the nation's best shooters, fits well in Pitino's 3 ball oriented offense.
6) Texas
SG – Sheldon McClellan(46)
PF – Jonathan Holmes(61)
SG – Julien Lewis(75)
PF – Kevin Thomas
PG – Sterling Gibbs
With the loss of numerous players to either the NBA or graduation, Coach Barnes had his hands full replacing upwards of 4 starters from last season. The Longhorns got a great start on rebuilding with a high caliber 6 man class led by arguably the nation's best pure point guard in Kabongo. He's hands down the class' best passer, is a blur from baseline to baseline, has been a top ranked player since his sophomore season, and should make an immediate impact next season. McClellan and Lewis are both athletic wing prospects who know how to score while Holmes is an imposing 4 star big man who should be a force inside. Gibbs, the younger brother of Pitt PG Ashton is the Longhorns PG of the future and transferred from Maryland after Gary Williams retired. In addition, the Longhorns are in the running for still uncommitted Top 10 prospect DeAndre Daniels at SF.
7) North Carolina
SF – PJ Hairston(12)
PF – Desmond Hubert
PG – Stilman White
PF – Jackson Simmons
Despite being stacked with a number of returning players for next season, Coach Williams gets an outstanding 5 player class headlined by the game-changing McAdoo, nephew of NBA Hall of famer Bob McAdoo, and Hairston, who can stretch the defense as a premier long range shooter. McAdoo is a top flight interior performer, who shined at the McDonald's and Jordan Brand Classic games, and could make an immediate impact as a freshman. Hairston may prove to be more than just a shooter as he is also becoming an internet sensation with his dunking prowess. Hubert and White will provide excellent depth at PG and PF.
8) Ohio State
C – Amir Williams(42)
SF – Sam Thompson(44)
SF – LaQuinton Ross(52)
PF – Trey McDonald
Next to Calipari, coach Thad Matta has to be considered the premier recruiter in the country after annually getting commitments from some of the top talent in the country. This year's 5 man class may not have the star power of a Sullinger or Oden but certainly fills a variety of needs for the Buckeyes to remain atop the Big Ten standings. Scott is a do-it-all PG who has dominated some better known prospects throughout the season and is one of the class's top rising prospects. Ross is one of the game's premier sharpshooters while Thompson will also help fill it up from the perimeter. At 6'9 and 230lbs, Williams shows great promise and should start alongside Sullinger at center while rebounding specialist McDonald provides excellent depth at PF.
9)Syracuse
SG – Michael Carter-Williams(20)
SG – Trevor Cooney(64)
Although the Cuse bring in only a 3 man freshman class for 2011, they are quite the highly touted trio led by the nation's #2 rated center prospect Christmas. Despite, or maybe because of not getting much out of last year's top center recruit Fab Melo, coach Boeheim brings in arguably the most athletic shot blocking big man in the nation in Christmas. Although he fell from 5 star to 4 star status during his senior season, he projects as a future pro once his offensive game matches his already imposing defense. Williams is a late rising prospect who has become one of the best scoring combo guards in the country while Cooney is a premier long range shooter.
10) Arkansas
PG – Ky Madden(35)
PF – Hunter Mickelson(54)
PF – Devonta Abron
PF – Aaron Ross
The Razorbacks are hoping to make a big push in the SEC next season behind a talented 5 man recruiting class featuring two elite level combo guards Young and Madden in addition to some tremendous depth up front including the Top 60 ranked Mickelson. Madden is a 4 star combo guard destined for big things while Young is the gem of the class as one of the premier PG in the nation, ranking right behind Teague, Kabongo, and Tony Wroten. His stock went through the roof this Spring and Summer on the AAU circuit and proved to be an elite level scorer, ranking among the Top 20 overall prospects in the nation. Ross and Mickelson are both homegrown talent as promising bigs while Abron provides more depth up front as a Top 100 ranked player by some sources.
Next 5:
Baylor Bears
Coach Drew apparently finally has the floor general to feed the rock to his imposing and talented front-court players Quincy Acy and Perry Jones by getting a commit from #1 JUCO prospect Pierre Jackson. Add in a talented crop of incoming freshmen led by Top 10 rated Quincy Miller, coming off a major knee injury, highlight reel player Deuce Bello, and former Boston College player SG Brady Heslip, and the Bears could be a force in the restructured Big 12 next season.
Georgetown Hoyas
Once again, coach John Thompson III has gone big with a great 5 man class featuring four talented front-court players surrounding outstanding Top 100 rated scoring guard Jabril Trabick. The late signing Otto Porter has potential as a Top 50 rated player to be the star of the group as a 6'8 scorer, while former Duke signee Tyler Adams(6'9 and 260lbs) provides some muscle down low. Michael Hopkins and Greg Wittington, both also 6'8, provide for tremendous depth in the front-court.
Alabama Crimson Tide
Coach Anthony Grant has always been a tremendous recruiter. This time he beat out Kentucky to nab in-state 5 star, elite level scorer Trevor Lacey as well as the Top 30 rated SG Levi Randolph, who is a versatile scoring combo guard that oozes potential. SG Rodney Cooper is a still developing wing who could be a mainstay of the program going forward. Nick Jacobs is an athletic and imposing center while Mousa Gueye, at 7'0 and 280lbs, was arguably the top rated big man from the JUCO ranks and could be a future pro. PG Retin Ojomoh is a native of Belgium, whom coach Grant hopes to develop into a starting player.
Illinois
While many continually criticize Illini coach Bruce Weber, he does an outstanding job of recruiting program enhancing talent. 2011 is no different as he bring in a talented class that may be lacking that one star player but should provide a bevy of talent that should be on campus for a number of years. SF Mycheal Henry is the best of the group as a product of the legendary Mac Irvin AAU program. He's a wing with size(6'5) that projects as a big time scorer while Tracy Abrams is a Top 100 rated PG, ranked among the Top 10 at his position. The near 7 foot center Nnanna Egwu is also a highly touted player that is still a work in progress offensively but is an elite level shot blocker. The 6'8 PF Mike Shaw is physically imposing and could develop into a big time post player.
Mississippi State
The Bulldogs are surely hoping to surround future returning pro Renardo Sidney with some prime time talent to make a run at the NCAA Tournament this season. By not knowing just how long Sidney will be on campus, they have secured a 5 man class highlighted by a trio of outstanding perimeter threats along with former UTEP stand-out at PF in transfer Arnett Moultrie. SF Rod Hood has potential to be a star player as a do-everything 5 star player. At 6'6, DJ Gardner has tremendous size as one of the nation's best shooters and Top 100 rated PG Deville Smith is a speedy and athletic 4 star floor general.
Allen Moll has been a lifelong NBA and NCAA College Basketball fan who watches and studies games religiously, and coaches youth basketball in his native Lehigh Valley region of Pennsylvania.  Allen also provides content to Bleacherreport.com, Upperdeckblog.com, in addition to being a tenured NBA and NCAA columnist for TheHoopDoctors.com.