June 27, 2011 – Allen Moll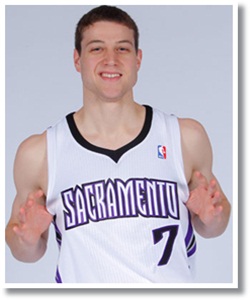 While the jury is still out on just how good of an NBA player Jimmer Fredette will be, one thing is for sure, he is reveling in his newfound fame as the Association's newest rock star.
Last year it was John Wall. Two years ago it was Ricky Rubio's turn, and prior to that it was Derrick Rose highlighting the draft. In 2011, it is Jimmer's turn in the spotlight as the reigning 2011 NCAA POY and the nation's leading scorer was selected #10 in the Draft by the Sacramento Kings.
Despite a so-called weak draft pool, fans watched this year's draft on Thursday night in near record numbers largely in part to see where Jimmer Fredette would be selected. I'd bet that if you would ask the casual fan who the top prospects were prior to Thursday's draft, the most probable answer would have been Jimmer with maybe a few Irvings and Williams thrown in.
Sacramento's selecting of Jimmer via a draft day trade is an ideal move for both the player and the franchise. Fredette may get the chance to play major minutes as the starting PG while the Kings are badly in need of revenue and butts in the seats during home games to raise money for a new arena and stave off the Kings being forced to move out of Sacramento.
One look at the Sacramento Kings homepage and Jimmer is obviously the new face of the franchise in spite of the fact that Tyreke Evans, the 2009 NBA ROY, and the fast developing Demarcus Cousins are still highlighting the roster.
I also feel bad for the other Kings 2011 draftees Tyler Honeycutt and Isaiah Thomas, who are very talented in their own right, as they seemingly are just along for a ride on the Jimmer train.
Check out Jimmer's rock star arrival in Sacramento:
Allen Moll has been a lifelong NBA and NCAA College Basketball fan who watches and studies games religiously, and coaches youth basketball in his native Lehigh Valley region of Pennsylvania.  Allen also provides content to Bleacherreport.com, Upperdeckblog.com, in addition to being a tenured NBA and NCAA columnist for TheHoopDoctors.com.