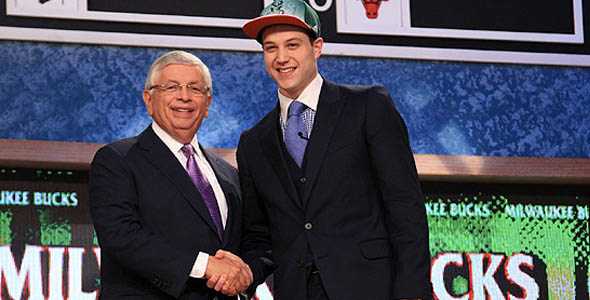 June 24, 2011 – Kevin Burke
I've been dying to write this for months now, but I wanted to first find out where he was going to play in the NBA.
Jimmer Fredette was probably the most talked about player in college basketball last year. That buzz followed him as we headed towards the draft. He garnered more attention at draft time than Kyrie Irving and Derrick Williams, the top two picks. Because of his knack for scoring, limitless range and funky name, he was a natural draw.
What he did at BYU last year was crazy. He filled it up like nobody's business. He easily led the nation in scoring at 28.9ppg. That's probably comparable to dropping 35 a night in the NBA when you factor in the 35 second vs. 24 second shot clock and the 40 minute vs. 48 minute game length. But as is always the case, just because you were brilliant in college, that doesn't mean you can make it in the NBA. We see it all the time.
Last night, Jimmer was taken 10th overall by the Bucks, but will suit up for the Kings because of a draft day trade. Now, it wouldn't be a draft without comparing prospects to current or former NBA players. That's been the case with Jimmer all season long. We've heard names such as Steve Alford, Kyle Korver, Mike Dunleavy Jr., and most commonly, J.J. Redick. First of all, it's somewhat lazy analysis to simply compare Jimmer to white players just for the sake of comparing him to white players. That's too easy. And too lazy. The Redick comparisons aren't close at all. At Duke, Redick primarily caught and shot his way into the record books. Not much was done by way of him creating his own shot with the ball in his hands. While he's improved that in the League, that's largely still the case. That wasn't the case at all with Jimmer. Just about all of his scoring came with the ball in his hands, creating his shot. Was his conference the most competitive in the land? Come on, be serious. But it is what it is. I actually see alot of Ben Gordon (the Detroit version, not Chicago) in Jimmer's game. They're roughly the same height and build, they both can shoot, but Gordon is the better all around player.
It took me a while to come around on Jimmer. All season long, I was looking for a reason to hate on him, but I couldn't find one. The man can play ball. But what will work against him in the League is that he is tabbed as a Point Guard. He's the farthest thing from. He didn't demonstrate the ability to run an offense at all while in college, unless you consider "look for your shot" the offense. But that's not entirely his fault. He was given an unprecedented bright green light. He plays more of an off-guard style of game, but at 6'2″ (at best), he won't be afforded the opportunity to play that same game in the League. Also, he proved to be a liability on defense all season long. Even in BYU's elimination game in the tournament, he played very lax defense. Perhaps that was by design to conserve his energy. Either way, with the advent of super athletic PGs running the show now, that won't fly.
In Sacramento, he'll be able to get out on the break and run a bit. He has more handle than he gets credit for, and he should be able to put that on display some. But not only was he a shooter/scorer in college, he was a volume shooter. His light will now be a dimly lit yellow, and won't be able to jack them up as much. But aside from Tyreke Evans, and with Beno Udrih now gone as result of the trade, the Kings' backcourt isn't that impressive. So short term, Jimmer may put up some inflated numbers and be key to Sacramento's rebuilding process, but long term, on a well balanced team, I think he'll be a guy who can spark the second unit while getting 20 minutes a night. Almost like Vinnie Johnson. I'm not expecting greatness, but I am expecting a better career than Alford, Dunleavy, Korver and Redick. I also expect his popularity to be instrumental in keeping the Kings in Sacramento beyond next season.
If you're looking for your everyday, predictable basketball talk, then you've come to the wrong place, because Kevin Burke of The Kevin Burke Project brings provocative, thought provoking content about basketball as only he can. Kevin also hosts The Hoop Doctors weekly podcast show, which you can subscribe to for free on iTunes. Follow Kevin on Twitter and Facebook