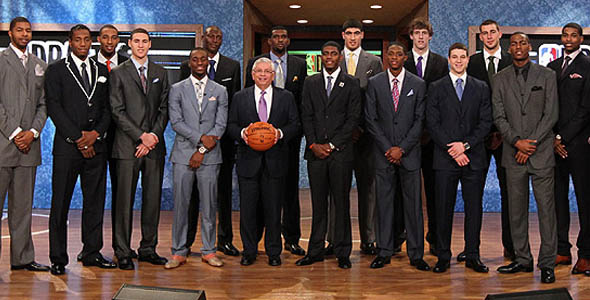 June 24, 2011 – Kevin Burke
As is always the case with draft day, a bunch of trades went down during the draft in order for teams to move up or otherwise improve their roster. With the draft being relatively weak this year, teams had to be cautiously optimistic in the deals they were looking to pull off. Here are all of the transactions that took place yesterday and the winner of each deal.
Teams involved: Mavericks | Blazers | Nuggets
Blazers get: Raymond Felton (from Denver), rights to 57th overall pick (from Dallas)
Nuggets get: Andre Miller (from Portland), rights to 26th overall pick (Jordan Hamilton); future second pick (2013 or 2014) from Portland
Mavs get: Rudy Fernandez (from Portland), rights to 2007 draftee Petteri Koponen
Winner: The Mavs are the winner in this deal because I think Felton and Miller are a wash. Sure Miller is much older, but his game is so methodical that age hasn't impacted his play. He's been playing that same game since Utah (college, that is). Rudy Fernandez is a solid player who wasn't getting much burn in Portland. This makes Dallas' team much deeper and I'm sure they'll play him.
Teams involved: Bobcats | Bucks | Kings
Bobcats get: 7th overall pick (Bismack Biyombo) from Sacramento, Corey Maggette (from Milwaukee)
Bucks get: 19th overall pick (Tobias Harris) from Charlotte, Stephen Jackson (from Charlotte), Shaun Livingston (from Charlotte), Beno Udrih (from Sacramento)
Kings get: 10th overall pick (Jimmer Fredette), John Salmons (from Milwaukee)
Winner: The Bobcats look the best in this deal and overall had a solid draft. Biyombo is a beast around the basket and Maggette is the veteran presence that this young club needs.
Teams involved: Rockets | Timberwolves | Bulls
Rockets get: Jonny Flynn, rights to 20th overall pick (Donatas Motiejunas), 38th overall pick (Chandler Parsons)
T'Wolves get: Brad Miller, rights to 23rd overall pick (Nikola Mirotic), 2013 1st round pick, rights to 28th overall pick (Norris Cole)
Bulls get: Rights to Nikola Mirotic (from Minnesota)
Winner: I think the Rockets are the winners here. In this PG driven league, I believe Jonny Flynn can still be a very special player.
Teams involved: Pacers | Spurs
Pacers get: George Hill, 2005 2nd round pick Erazem Lorbek
Spurs get: Right to 15th overall pick (Kawhi Leonard), rights to 42nd overall pick (Davis Bertans)
Winner: The Spurs are the winners here because Leonard does exactly what the Spurs are all about. He'll roll up his sleeves and get dirty by defending, grabbing boards and blocking shots – all while not wanting to score. I'm confused by the Pacers in this deal. George Hill can potentially start in this league and they just dealt for Darren Collison last year. So when is Hill going to play? Doesn't improve their roster.
Teams involved: Nets| Celtics
Nets get: Rights to 25th overall pick (Marshon Brooks)
Celtics get: Rights to 27th overall pick (JaJuan Johnson), 2014 2nd round pick
Winner: The Nets are the winners here. Marshon Brooks has been tabbed "the next Kobe Bryant." While that's both premature and foolish, I will say that his movements on the court do have somewhat of a Kobe feel. Does that alone mean that he will be Kobe? Of course not. But he did drop 52 in a game last year for Providence and is the perimeter scorer that Avery Johnson needs.
Teams involved: Knicks | Hornets
Knicks get: Rights to 45th overall pick (Josh Harrellson)
Hornets get: Financial considerations
Winner: Clearly, the Knicks win this deal as they practically buy Harrellson from New Orleans. The Knicks had the 17th pick and I thought they would've taken Kenneth Faried because of his defensive intangibles. But they didn't. While Harrellson isn't as athletic as Faried, he certainly fills a need. He led the SEC in boards last year and can alter shots around the basket. Definitely helps in filling the Knicks' biggest need.
Teams involved: Timberwolves | Heat
Heat get: Rights to 28th overall pick (Norris Cole)
T'Wolves get: Rights to 31st overall pick (Bojan Bogdanovic), future 2nd round pick, cash considerations
Winner: The Heat walk away winners here. The fact that Cole was taken in the first round from Cleveland State (even in a weak draft) means he can ball. He was a gifted collegiate scorer and could eventually provide a spark off the Heat bench.
Teams involved: Warriors | Bobcats
Warriors get: Rights to 39th overall pick (Jeremy Tyler)
Bobcats get: Cash considerations
Winner: I'll always assume the team who actually got a body in the deal, rather than cash, is the winner. But here, it was close. Tyler's gamble of skipping his senior year of high school to turn pro in Europe was a risky one. He was taken in the 2nd round which means his contract isn't guaranteed and could get cut (new CBA notwithstanding). I'll give the Warriors the slight edge here in a photo finish.
Teams involved: Magic | Cavaliers
Magic get: Rights to 32nd overall pick (Justin Harper)
Cavs get: Two future 2nd round picks
Winner: I don't see Harper playing much of a role in Orlando. But for the Cavs who are rebuilding, these picks may workout for them ultimately. Cleveland is the winner here.
Teams involved: Nuggets | Lakers
Nuggets get: Rights to 56th overall pick (Chukwudiebere Maduabum)
Lakers get: Future 2nd round pick
Winner: Push
If you're looking for your everyday, predictable basketball talk, then you've come to the wrong place, because Kevin Burke of The Kevin Burke Project brings provocative, thought provoking content about basketball as only he can. Kevin also hosts The Hoop Doctors weekly podcast show, which you can subscribe to for free on iTunes. Follow Kevin on Twitter and Facebook