June 8, 2011 – Kevin Burke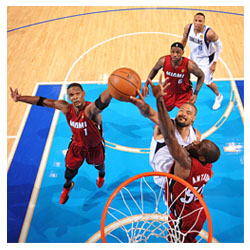 In a game where Dwyane Wade missed a critical fourth quarter free throw, fumbled the ball on the final play of the game, and where Dirk Nowitzki played very effectively with an alleged 101 degree fever, the storyline is LeBron James. LeBron was pretty much invisible the entire game as he finished with eight points on 3 -11 shooting and I have absolutely no idea what to make of it.
Following Game 3, CBS' Gregg Doyel asked LeBron why he's "shrinking" in the 4th quarter of this series. At the time, it was a ridiculous question and LeBron let Doyel know it. But I'm sure after last night's game, Doyel was somewhere patting himself on the back preparing his "I told you so" response.
Last night's game was very strange and difficult to defend if you're a supporter of James. Unfortunately for LeBron, we've seen this movie before. He disappeared at stretches of the Cleveland – Boston Eastern Conference Finals last year. I felt compelled to come up with an explanation then and I do now as well. Last year he was accused of quitting on the Cavs and I thought that was nonsense. Hopefully, his performance last night will prove once and for all that that theory is a farse, unless you're telling me he's quitting on the Heat because he wants out of Miami.
If I could point to Dallas' defense as the reason why LeBron was held at bay, then it would make sense. But that couldn't be further from the truth. No one on Dallas can check him when he's on his game. LeBron just seemed very disinterested offensively and ended up taking only one shot in the fourth quarter, failing to score. In fact, he only has nine total points in the fourth quarter of this series. LeBron's biggest criticism during his days in Cleveland was that he was too passive and deferred to his teammates too often. You also cannot point to that either. It's not as if he was deferring to teammates in the fourth quarter. He wasn't involved at all. He didn't even have the ball enough to be in a position to defer. I honestly forgot he was on the floor during certain stretches of the game. I even thought that reports were wrong, and that he was the one with the fever.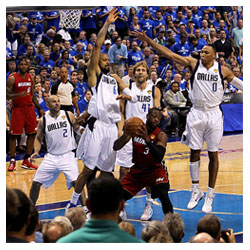 In the Eastern Conference Finals against Chicago, LeBron was phenominal and is the reason why the Heat advanced to the Finals. In that series, at times Dwyane Wade was the one who seemed out of sync offensively. The reason that wasn't made into as big a deal as this was because he was still being aggressive and taking shots. LeBron was the complete opposite last night. It almost looked like he didn't want the ball. In fact, if it were Chris Bosh performing that way, I'm sure Wade would've yelled at him. But he would never do such a thing to LeBron at the risk of harming their bromance.
LeBron has gotten less aggressive and more invisible with each passing game and at this rate he may vanish into thin air if he doesn't wake up. This is now a best-of-three series with two of the final three games remaining to be played in Miami. I'd like to make the bold claim that LeBron will come out and have one of his vintage 25, 7 and 7 games in Game 5, but I'd have no leg to stand on. But I will say that he better have something close to that. I'm certainly not a LeBron hater, but another performance like this and it will be feeding time for the many who are.
If you're looking for your everyday, predictable basketball talk, then go somewhere else, because Kevin Burke of The Kevin Burke Project brings provocative, thought provoking content about basketball as only he can. Kevin also hosts The Hoop Doctors weekly podcast show, which you can subscribe to for free on iTunes. Follow Kevin on Twitter and Facebook