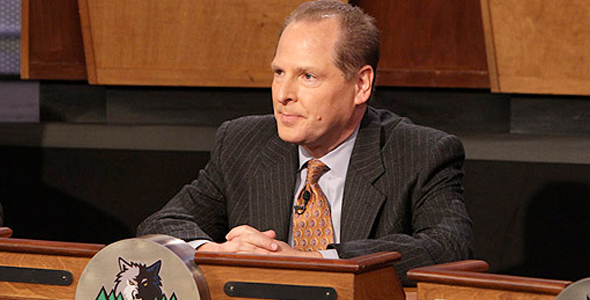 May 18, 2011 – Kevin Burke
As a fan of the NBA, few things bother me more than insinuations of foul play pertaining to League dealings. It hurts the integrity of the game. The Tim Donaghy revelation was a dark time for the NBA and the League is slowly trying to climb out of the doldrums of the speculation that subsequently followed. Last night, Timberwolves GM David Kahn suggested that the NBA Draft Lottery is rigged in order to create  great storylines.
Heading into the lottery, Kahn's T'Wolves had a 25% chance of landing the #1 overall pick since they were the league's worst team. The Cavaliers had a 19.9% chance, the Raptors had a 15.6% chance, the Wizards had an 11.9% chance and the Kings had an 8.8% chance. By now, you know that is not how teams will pick on June 23. It never goes as planned. That's why it's called a lottery. The top five picks will go as follows: Cavs, T'Wolves, Jazz, Cavs and Raptors (The Cavs have two picks in the top five because they received one from the Clippers in the Baron Davis deal). The last time the team with the best chance of winning the lottery actually won, was 2004 when the Magic selected Dwight Howard out of high school. So it doesn't happen often.
Aside from Kevin Garnett's glory years in Minnesota, the T'Wolves have been a historically bad NBA franchise. This was their 14th time in the lottery and they have never ended up with the first overall pick. They thought they had a shot last night, but it didn't happen. Naturally, that upset their GM David Kahn who thinks the lottery is rigged. He didn't seem to think the T'Wolves had any shot. Especially when Cavaliers owner, Dan Gilbert, sent his 14 year old son Nick, to sit on stage and represent the team at the lottery. Nick Gilbert was born with Neurofibromatosis, a nerve disorder that causes tumors to grow anywhere in the body at any time. He was also wearing black-rimmed glasses and a bow tie as well which made people gush even more.
Following the draft, Kahn said that the NBA likes a great storyline, and giving the first overall pick to the Cavs, especially with Nick Gilbert sitting up there, was perfect. When there were only three teams remaining, those three representatives were asked to assemble at center stage. That meant, Gilbert, Kahn and Jazz GM Kevin O'Connor assembled as ESPN took a commercial break.  Here's what Kahn said happened during the break:
"I did tell Kevin O'Connor when the three of us were asked to stand up on that little elevated stage, as soon as the 14 year old joined us, we were toast," Kahn said. "There was no way the 14 year old was about to be denied in a league that has a habit of compelling storylines."

Timberwolves General Manager David Kahn said he knew Minnesota was "dead" when it got down to the final three of himself, Utah executive Kevin O'Connor and Nick Gilbert, the son of Cavaliers owner Dan Gilbert who was born with neurofibromatosis. "This league has a habit, and I am just going to say habit, of producing some pretty incredible story lines," Kahn said. "Last year it was Abe Pollin's widow and this year it was a 14-year-old boy and the only thing we have in common is we have both been bar mitzvahed. We were done. I told Kevin: 'We're toast.' This is not happening for us and I was right."
I seriously doubt that Kahn's claims are accurate. Can you imagine the type of collusion amongst NBA brass that has to take place in order to rig a lottery? And on top of that, I guarantee that it would've been leaked by now from someone familiar with the situation. The NBA lottery was implemented over 20 years ago so I'm very confident that we would've heard some concrete proof by now other than "they want to create great storylines." Creating great storylines doesn't earn the NBA money. More than anything, Kahn is bitter. He's about to be even more upset once David Stern undoubtedly hits him with a hefty fine for his irresponsible and unproven allegations.
But Kahn isn't the first, nor will he be the last to think the lottery is rigged. The first ever lottery pick was made by the New York Knicks when they selected Patrick Ewing. There were rumors of foul play then, following the first ever draft, because all signs leading up pointed to the Indiana Pacers getting the first overall pick, not the Knicks.
But as far as I'm concerned, if the Cavs getting the #1 overall pick will finally get Dan Gilbert to stop referencing LeBron either directly or indirectly, and help the city of Cleveland finally get on with their lives, then it was a great night.
If you're looking for your everyday, predictable basketball talk, then go somewhere else, because Kevin Burke of The Kevin Burke Project brings provocative, thought provoking content about basketball as only he can. Kevin also hosts The Hoop Doctors weekly podcast show, which you can subscribe to for free on iTunes. Follow Kevin on Twitter and Facebook