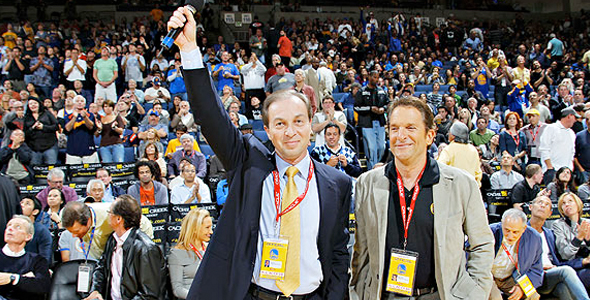 May 25, 2011 – Joshua Sexton
According to Yahoo Sports, the owners of the Golden State Warriors, Joe Lacob and Peter Guber, have provided a list of promises to season ticket holders the organization plans to fulfill next season, in an effort to give loyal fans a quality product on the hardwood.
Here are the four promises, according to the Yahoo report:
1. THE CLUB will reach the 2012 NBA Playoffs.

2. THE CLUB will have a player participate in the 2012 NBA All-Star Game in Orlando.

3. THE CLUB will win 25 or more home games at Oracle Arena.

4. THE CLUB will honor a Risk-Free Renewal, with a 5% Interest Guarantee Option for the 2011-12 NBA season.
The problem with the promises is they aren't really a 'money-back guarantee' which one might expect. They have only promised to either not raise ticket prices or give you some souvenir or gift if they can't fulfill their promise.
Nothing too ambitious, yet the bar has definitely been raised for increasing the quality of the team. In addition, the team will offer prizes to the fans if the promises come up short. Prizes include: no increases in season tickets for the following season and autographed team gear.
When I first saw this story, my initial reaction was: What a very refreshing idea. It's not everyday owners of a struggling franchise reach out to the fans and make promises for a better future.
Despite the team's real lack of success the last several years, all of us basketball fans know that Warriors fans are some of the most loyal, raucous fans in the league.
Considering sports is often a copycat industry, it wouldn't surprise me if other owners adopt a similar policy for their own struggling franchises.
Joshua Sexton is a lifelong basketball fanatic, who watches as many games as possible. In addition, He has played and coached the game at the high school level. He has recently started writing about the game of basketball.