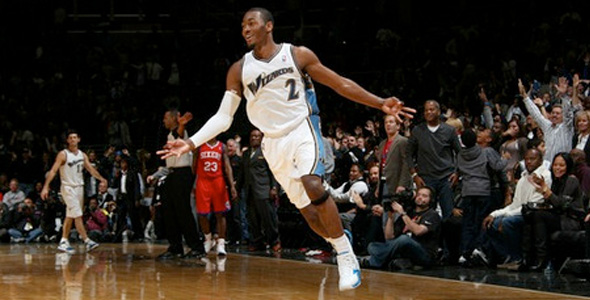 April 11, 2011 – Kevin Burke
It's tough to take in a good game without enjoying a little something to sip on while watching. And if you're actually at the game, you're even more inclinced to throw a few back. If you subscribe to that theory, you're definitely not alone because many feel the same way. But don't worry, others have taken notice. Namely, CÎROC Ultra Premium Vodka, the Washington Wizards and Verizon Center.
Tonight, the Celtics invade the nation's capital to take on the Wizards and will try to bounce back from yesterday's convincing loss to the Heat. For this game, CÎROC and the Wiz are doing something very special for those headed to Verizon Center for the game. They are promoting responsible consumption by providing consumers free mass transit passes for a safe ride home after the game.
Those attending the game will be provided a single-fare mass transportation pass for Washington, D.C.'s Metrobus and Metrorail systems via CÎROC street teams. In addition to providing consumers with single-free passes to get home, CÎROC and Step Logic will provide complementary digital photos of consumers while they are at the game, which can then be obtained afterwards online.
If you planned on heading to the game tonight and want to take advantage of this, leave your car home and get there on time because these passes will be given out between 6pm – 6:45pm tonight at Verizon Center – Acela Club & Player's Club at 601 F Street NW in D.C.
You have to admit, this is a great initiative by CÎROC, the Wizards and Verizon Center. We think so too, which is why I'll be representing The Hoop Doctors at the game. Hope to see you there.
If you're looking for your everyday, predictable basketball talk, then go somewhere else, because Kevin Burke of The Kevin Burke Project brings provocative, thought provoking content about basketball as only he can. Kevin also hosts The Hoop Doctors weekly podcast show, which you can subscribe to for free on iTunes. Follow Kevin on Twitter and Facebook