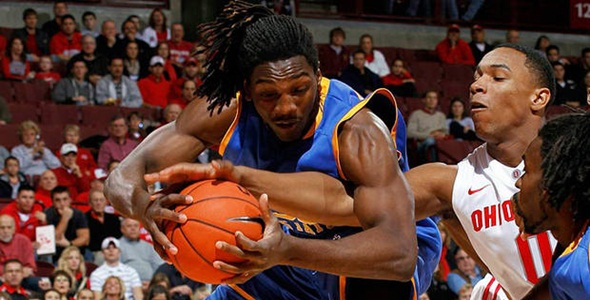 February 22, 2011 – Allen Moll
If you haven't yet heard of Morehead State's dominating big man Kenneth Faried, you will next season around NBA circles as he will surely be rising up everyone's 2011 Mock Drafts after becoming the NCAA's all-time rebounding king. Although the 6'8 and 225 lb senior plays at a small school in the Ohio Valley Conference, the name Faried will now rank above players like Ralph Sampson, Derrick Coleman, and Tim Duncan in the NCAA record books.
In grabbing 12 boards in a win over Indiana State this past Saturday, Faried has collected a total of 1,576 rebounds, which are 6 more than former Wake Forest stand-out Tim Duncan totaled between '94 and '97. Now all future elite level rebounders all will be gunning for Faried's mark which should be even farther out of reach considering he still has a handful of regular season games left.
The 4 year player hailing from Newark, NJ apparently made the right decision to pull out of last year's NBA Draft early to return to Morehead State and play out his senior season. NBA General Managers had concerns about his lack of overall skill on the offensive end in spite of his tremendous defensive prowess and through the roof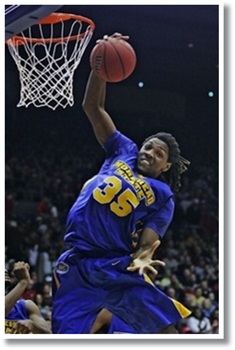 athleticism. Faried has worked hard on his game and has steadily increased his scoring from barely 10 ppg as a freshman to now nearly 18 ppg as a senior. His efficiency also has gone through the roof as he ranks among the nation's leaders in FG% by shooting an impressive .635% from the field, with most coming on dunks, jump hooks, and tip-ins.
The fact is that Kenneth has always been an elite level rebounder as early as his freshman year, when he averaged 8 per contest. Thereafter he put up marks of 13.0, 13.0, and a league leading 14.2 rebounds per contest this year. Many have compared him to the modern day Dennis Rodman or Ben Wallace because of the similar body types and style of play.
This season, he has hit double figures in rebounds in all but 3 games and has an impressive 12 games of grabbing 15 or more, including 5 contest of 20 boards. His best game had to be a 23 point, 23 board, 3 block gem in a win against Tennessee State late in January. During his outstanding career he has compiled an impressive 76 career double-doubles to rank among the NCAA's all time best in that category as well, prompting Morehead to already retire his number prior to his senior season's completion.
If his squad can somehow make it back to the NCAA Tournament by getting by conference rival Murray State, Faried will be one of those nightmare match-ups for one of the high major programs' opposing bigs. That may make Morehead State one of the favorites to score one of those entertaining 1st round upset wins we all try to predict in our office pools.
As it stands right now, Faried probably will go late 1st to early 2nd round in the upcoming 2011 NBA Draft. Some teams may shy away because of possessing only an average or limited offensive game or that he played against lesser competition but that would be a mistake since Faried is one of those players that every team needs that will do all the dirty work like diving for loose balls or playing lock-down defense. As for the lack of competition, his stat-line playing against Jared Sullinger of Ohio State should quiet those rumors – 15 points, 12 rebounds, 5 steals, and 2 blocks to Sullinger's 8 points and 8 rebounds.
Check out a video showing why Faried is starting to get some national attention:
To read more on Faried's inspiring background growing up in Newark and his journey to rural Kentucky to play at Morehead State, check out Dana O'Neal'sfrom ESPN's  piece on Faried here.
Allen Moll has been a lifelong NBA and NCAA College Basketball fan who watches and studies games religiously, and coaches youth basketball in his native Lehigh Valley region of Pennsylvania.  Allen also provides content to Bleacherreport.com, Upperdeckblog.com, in addition to being a tenured NBA and NCAA columnist for TheHoopDoctors.com.