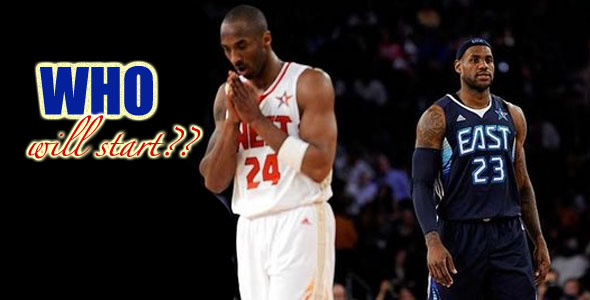 January 8, 2011 – Kevin Burke
All-Star weekend is continuing to take shape and a few days ago we told you who would be participating in the dunk contest. The voting ballots for starter of the game opened up about 8 minutes after the season began but it's becoming clearer who the starters will be. We'll find out who will be starting on January 27, but if they were announced today, there would be some interesting names.
Whether you agree with how the starters are named or not, it's here to stay and it doesn't look like it's going to change. With that in mind, the NBA just released the 10 guys who would be starting if the voted ended today.
West
Kobe Bryant – He's the leading vote getter overall so far. No argument here.
Chris Paul – CP3 is averaging 16.7 points and 9.8 assists for New Orleans this year. Those are good numbers but this is a down year production-wise for his standards. But I can live with him being named if it ends up this way.
Kevin Durant – 27.9ppg (the league's leading scorer) and 6.2rgp. No argument here.
Carmelo Anthony – 24.4ppg and 8.3rpg. No argument here.
Yao Ming – He has a huge lead in terms of voting and it isn't likely that he will be caught. Nor is it likely that he'll play again…ever. He definitely won't start so someone will have to live with the fact that they are a reserve who is being named a starter by default.
East
Rajon Rondo – He just had another 20+ assist game (which was part of a triple double). The Celtics looked a bit confused and stagnant when he was out with his injury. Now that he's back, they're clicking again, proving his worth. No argument here.
Dwyane Wade – 25ppg. No argument here.
LeBron James– Wow, people really do still like him. 25, 7 and 7. No brainer.
Kevin Garnett – Not so sure about this one, but I guess so if you twisted my arm.
Dwight Howard – Of course.
I don't anticipate this changing that much, if at all, so aside from Yao I'd bet that these will be the starters. We'll find out in a few weeks.
If you're looking for your everyday, predictable basketball talk, then go somewhere else, because Kevin Burke of The Kevin Burke Project brings provocative, thought provoking content about basketball as only he can. Kevin also hosts The Hoop Doctors weekly podcast show, which you can subscribe to for free on iTunes. Follow Kevin on Twitter and Facebook