January 11, 2011 – Allen Moll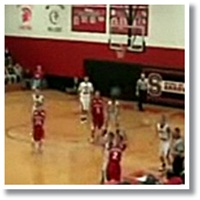 Win or lose, buzzer beaters are arguably the most entertaining of any type of shot in the game of basketball. After all, how many games come down to the final ticks of the game clock, with a player attempting a last gasp, final toss towards the rim and who emerges victorious hinging on whether the shot goes through the net?
The NBA and college ranks have brought us a number of last chance buzzer beaters like most recently when a player from Baker University picked off a pass and sank an amazing half court shot to win a game.
And who could forget NBA superstar Tyreke Evans nailing this 50 foot game winner to beat the Grizzlies just last week that many are already calling the play of the year?
We, at TheHoopDoctors.com definitely don't want the high school ranks to feel slighted as we bring you arguably one of the most amazing half-court buzzer beating shots we've ever seen as a player from Twin Valley South HS in Ohio inexplicably sinks a back-to-the-basket shot as the first half expires.
Apparently the player listened to the fans seen in the video urging him to "shoot it" as he sinks this utterly amazing shot……
Allen Moll has been a lifelong NBA and NCAA College Basketball fan who watches and studies games religiously, and coaches youth basketball in his native Lehigh Valley region of Pennsylvania.  Allen also provides content to Bleacherreport.com, Upperdeckblog.com, in addition to being a tenured NBA and NCAA columnist for TheHoopDoctors.com.