December 28, 2010 – Allen Moll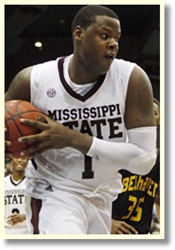 To the average person, Mississippi State sophomore forward Renardo Sydney has been given way more chances to succeed at the collegiate level than most. Apparently the 6'10 and 270 lb one time prized recruit doesn't agree as he was caught on national television having a knock-down, drag-out fistfight with teammate Elgin Bailey immediately following Mississippi State's victory over San Diego in the Diamond Head Classic.
If you remember, Sydney was forced to repay more than $11,000 in improper benefits and sit out all of last year and 9 games this season while the NCAA investigated his amateur status, then was suspended one game for "conduct detrimental to the team", and was benched for the team's 1st round loss to tourney runner up Washington State on Wednesday.
The once highly touted big man, who was a McDonald's All American and was ranked among the truly elite high school prospects in the 2009 Class, supposedly had skills comparable to that of DeMarcus Cousins and Derrick Favors. He was also thought of as a one-and-done talent who surely had his sites set on the NBA.
Now, after totaling only 31 points and 9 rebounds in his 2 collegiate games, the future looks bleak for Renardo as he surely faces a severe punishment by the university, possibly even including being thrown out of school altogether. Villanova's highly touted freshman JayVaughn Pinkston, deemed "Baby Barkley" for his outstanding ability to rebound the basketball at only 6'6, was forced to leave the program earlier this season for a somewhat similar incident involving fighting with other students on campus.
In a statement by Bulldogs head coach Rick Stansbury, the school expressed their extreme displeasure over the unfortunate incident:
"In my 13 years as a head coach, we've never had anything like this happen before," he said. "I am very disappointed in the actions of Elgin Bailey and Renardo Sidney and in no way does it reflect the overall picture of our program. It is not how we want our men's basketball team to be viewed nationally."
While although it seems a tad forced and a bit after-the-fact, Sydney also released a statement:
"I'm very sorry for this incident," Sidney said in a statement released by the university. "I had no intention of this ever happening. I apologize for embarrassing my family, all the Mississippi State fans, my teammates and coaches. "I will learn from this and move on."
Sorry Sydney. It's a little too late for an apology, isn't it? Thousands of high school players would give their right arm(figuratively) to have the chances you have already been given and promptly blown. Here's hoping that the university comes to their senses(just like USC and UCLA) and dismisses Renardo from the program, admitting they made a mistake.
Surely you've already seen the footage as it aired on ESPN, but here it is again:
Allen Moll has been a lifelong NBA and NCAA College Basketball fan who watches and studies games religiously, and coaches youth basketball in his native Lehigh Valley region of Pennsylvania.  Allen also provides content to Bleacherreport.com, Upperdeckblog.com, in addition to being a tenured NBA and NCAA columnist for TheHoopDoctors.com.