December 18, 2010 – THD Rumor Patrol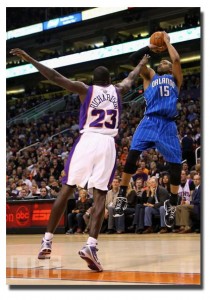 The Orlando Magic are not going to be satisfied with being a perennial power in the Eastern Conference. They want a championship and they are going to do whatever it takes with their roster to get there. Earlier we reported that the Magic traded Rashard Lewis to the Wizards for Gilbert Arenas. Well they also have agreed to terms in a deal with the Phoenix Suns that will send Vince Carter, Mickael Pietrus, and Marcin Gortat to Phoenix in exchange for Jason Richardson, Hedo Turkoglu, and Earl Clark.
All-pro center Dwight Howard is on board with all of the deals the Magic made, according to a source, feeling that Orlando did not have the same energy this season that it had had in the last couple of years. Howard can opt out of his contract after next season and become an unrestricted free agent in the summer of 2012, the same offseason that New Orleans guard Chris Paul would be free. That would obviously create a free agent frenzy similar to that of this past summer, when LeBron James and Dwyane Wade headed a star-studded free agent class.
The mega deals completely change the face of the Magic, who are sitting with a solid 16-9 record this season, and reunites Turkoglu with the team where he played his best basketball, helping lead Orlando to the Finals in 2009 at power forward alongside Howard. It also will reunite Arenas and Richardson, who starred together early in their careers in Golden State.
The Suns are hoping that pairing Vince Carter with the master facilitator in Steve Nash can help to rejuvenate his career and turn him back into the high scoring offensive powerhouse he once was. He may not have the same legs he used to when he was considered 'Vinsanity' but the Suns needed to shake things up if they want to not only make a run in the Western Conference but even make the playoffs at all.
Read more details via David Aldridge on NBA.com