December 13, 2010 – Dr. J-Water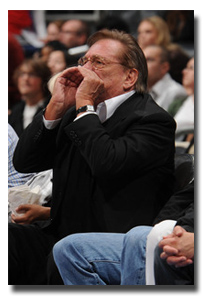 Baron Davis is the LA Clippers highest paid player. He's also the player that seems to get injured and miss game action most frequently. Actually, that has been the story of Davis' career. When he's on the court there is no doubt in anyone's mind that this guy is an elite player with the skills and physical tools to dominate his opponents. But over the course of his career he seems to be off the court more than on it.
A lot of NBA Owners could live with the injuries and down time knowing that it's part of the risks they take paying athletes that some may get injured. Especially if they saw their big investment's working their tail off to get back on the court and succeed. But part of the frustration with Davis in the past has been his seemingly care free attitude about his downtime where he is busy making movies, or seen partying and socializing, etc. So when Baron Davis returned to the Clippers line up this season a bit more out of shape than the Clippers are used to seeing him, as well as a bit more rusty than they'd like, Owner Donald Sterling took exception.
So how does Sterling voice his displeasure with Davis'? By heckling him from courtside. Seriously….
Sterling has expressed his displeasure about Davis' play by taunting him from his courtside seat at Clippers' home games, several sources told Yahoo! Sports. Among Sterling's verbal barbs:

– "Why are you in the game?"

– "Why did you take that shot?"

– "You're out of shape!"

While Sterling has also taunted other Clippers players since the middle of last season, none have received it worse than Davis, the sources said. Davis has missed 14 of the team's 25 games this season and is averaging 7.4 points while making a team-high $13 million. Including this season, Davis has three years and nearly $42 million left on his contract.

"There's nothing I can say," Davis said of Sterling's taunts. "I have no comment on that. You just get to this point where it's a fight every day. It's a fight. You're fighting unnecessary battles. I'm fighting unnecessary battles.

"It's frustrating because I know and my teammates know I'm capable of getting it done, even dudes on the other team. It's frustrating." (LATimes.com)
Although the thought of an NBA owner sitting courtside and heckling his own players makes me laugh, it really isn't a productive way to get the best out of your investment. Karma can be a very funny thing, as Sterling was known for many years as the owner that was unwilling to shell out the big bucks for his young talent. Now he's the owner that shelled out big bucks for older talent that is coming up a bit lame.