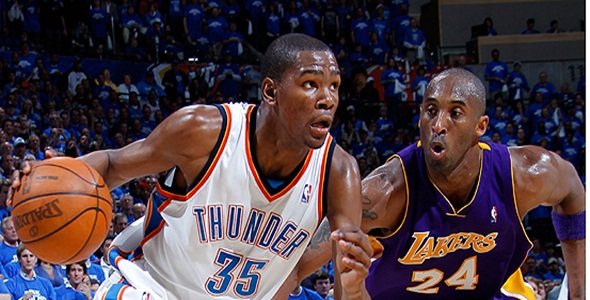 November 10, 2010 – Allen Moll
The NBA is becoming a young man's game. Even though the NBA changed the age eligibility rules a few years ago, many of the game's best players are coming to the professional ranks after only a year or two of NCAA or European experience. Last year in our 1st Annual edition of the 10 Best NBA Players in the Association Under Age 23, which was filled with names like Dwight Howard,  Kevin Durant, and Rajon Rondo. Many of those players continue to build on there resume as they now creep into their mid 20's, meaning a number of new players have cracked this year's list.
Why twenty three? Most of the NBA's current crop of superstars like Lebron, Kobe, and D. Wade are in the mid 20's to early 30's. We all remember back in the late 80's when Magic and Bird passed the torch on to MJ. This is the list of players that our current stars will, or already have started to pass that torch onto, within the next 5 years. Players who haven't yet played an NBA game(like this years draft class) were not included.
In Part One of the series, we  gave you our #10 through #6 selections. Check out the #1 through #5 selections as well as a few Honorable Mentions that just missed the cut. If you think that I missed someone or have an opinion, please leave a comment.
#5 – Brandon Jennings (Age 21)
'09-'10 Stats: 15.5 ppg, 5.7 ast, 3.4 rebs, 1.3 stl, .374 3PT%
Many criticized "Young Money" for bypassing the NCAA to play overseas after finishing as the #1 rated player coming out of high school 2 years ago. They said he was too small and too flashy to succeed in the NBA. Jennings has made it his mission to prove everyone wrong. In his rookie season in the Association, Jennings both was inconsistent and outright brilliant by challenging Tyreke Evans and Stephen Curry all season long in the ROY race. From the onset, Jennings impressed by tallying 17 points, 9 rebounds, and 9 assists in his first NBA game, narrowly missing a triple-double. He also set the Bucks rookie recored for scoring(breaking Kareem Abdul-Jabbar's mark) by dropping a cool 55 points on the Warriors last November. Brandon at times struggled with the grind of the longer NBA season, but rebounded nicely to help the Bucks advance into the 2nd round of the playoffs, mainly behind his nearly 19 ppg average. The sky is the limit for Jennings as he surely will challenge for an Eastern Conference All Star spot this season.
Check out Jennings Ultimate Rookie Season Mix:
#4 – Andrew Bynum (Age 23)
'09-'10 Stats: 15 ppg, 8.3 rebs, 1.4 blk, .570 FG%
It's hard to believe that Andrew is entering his 6th NBA season(albeit on injured reserve) at the ripe age of 23, but many forget that he became the youngest player to ever play in an NBA game(18 years, 6 days) back in 2005. His talent is evident, possessing unbelievable athleticism almost never before seen by a player with measurements of 7 feet tall and nearly 300 lbs. He has improved his scoring output every season in the Association along with setting a career highs in FT percentage(.739%) and minutes per game(30.4) last season. Bynum even proved to be the deciding force in his Lakers defeating Boston in last season's NBA Finals as he started and played in 23 games in the postseason, averaging nearly 2 blocks per contest. But the problem has always been injuries as Bynum has played in a full 82 games only once in his 6 seasons. He has averaged playing in only 56 games per season since his rookie season and is currently out of action once again due to yet another knee surgery. When healthy, Bynum is capable of being the best player on the floor and dominating the painted area. Get well soon. The Lakers will need Bynum's services to win their third straight NBA title.
Check out Andrew Bynum's Career Highlight Mix:
#3 – Tyreke Evans (Age 21)
'09-'10 Stats: 20.1 ppg, 5.8 ast, 5.3 rebs, 1.5 stl
The man-child known as "Reke Havoc" was already a star as a middle schooler back in Chester, a crime riddled suburb of Philadelphia. Because of a great support system around him, Evans narrowly escaped his surroundings to star at American Christian Academy and won the MVP at the '08 McDonald's All American Game. After being wooed by coach John Calipari to play collegiately at the University of Memphis, Tyreke transitioned from playing SF in high school to point guard in the NCAA's. Following Derrick Rose before him, Evans became a Top 5 pick when he was selected #4 by the Kings in the '09 Draft. Evans was sensational in winning the 2010 NBA ROY by becoming the 4th player ever to average 20 points, 5 rebounds, and 5 assists for an entire season, joining the "Big O" Oscar Robertson, Michael Jordan, and LeBron James. Evans is already in great company as he attempts to lead the Kings back to respectability.
Check out Tyreke's Rookie Season Mix:
#2 – Derrick Rose (Age 22)
'09-'10 Stats: 20.8 ppg, 6 ast, 3.8 rebs
Hailing from the "Windy City", Rose is living out his life-long dream by playing for his home-town Chicago Bulls. The Bulls are undoubtedly happy to have him as well as the former McDonalds All American and stand-out star at Simeon HS. After leading Simeon to two straight state titles, Rose took his talents to the University of Memphis to play for coach John Calipari. At the collegiate level Rose shined, helping to lead Memphis to their first #1 ranking and a stellar 33-1 mark, losing in overtime to eventual winners Kansas, in the National Championship Game. It was later uncovered that Rose was ineligible and Memphis' '07-'08 season was vacated. As the #1 overall pick of the Chicago Bulls, Rose immediately shined earning the '09 ROY and even set a rookie record by scoring 36 points in his first ever playoff game. In his second season, shook off an early ankle injury to set career highs in scoring(20.8ppg) and FG%(.489%) en route to earning his first All Star Game appearance, becoming the first Bull since Michael Jordan to do so. This Summer, rose played a vital role for USA Basketball in helping the squad win gold at FIBA Worlds. In 2010 Rose continues to ascend toward the top of NBA point guard heirarchy as he is arguably the league's most athletic point guard.
Check out Rose's '09-'10 Season Mix:
#1 – Kevin Durant (Age 22)
'09-'10 Stats: 30.1 ppg, 7.6 rebs, 2.8 ast, 1 blk, .365 3PT%, .900 FT%
After starring on the AAU level alongside Michael Beasley and Ty Lawson, he became a national HS star at Montrose Christian School in Rockville, Maryland. He was named co-MVP of the '06 McDonalds All American Game and ranked as the 2nd best HS prospect in the country, before deciding to play for coach Rick Barnes at the University of Texas. In his lone season as a Longhorn, Durant had arguably one of the best seasons ever by a freshman, by averaging 25.8 ppg and 11.1 rebounds in sweeping most national Player of the Year Awards. Although he was the best player coming out of college that year, he was selected as the #2 pick by the then Seattle Supersonics in the '07 Draft behind #1 overall selection Greg Oden, who was chosen by Portland. Durant immediately made his mark on the league by finishing with a 20.3 ppg average behind several high scoring outputs, was named Western Conference Rookie of the Month 5 times, en route to being named the unanimous ROY in 2008. Although he was not chosen as an All Star in his second season, he continued to light up NBA scoreboards to the tune of 25.3 ppg and set the scoring record(46 points) in winning the MVP at the Rookie and Sophomore Game during All Star Weekend. Last season, Durant as a superstar came full circle as he became the youngest ever scoring champion(30.1 ppg) by setting career highs across the board in ppg, rebounds, assists, steals, blocks, and FT% as helped his young OKC Thinder squad to their first ever playoff birth. This Summer, with a number of other elite players bypassing the FIBA World Championships, Durant became the de facto leader of the squad and became an international superstar by being one of the events leading scorers and helping to lead USA to the gold medal. The sky is the limit for Durant, who at only 22 years of age is already a franchise player and one of the NBA's Top 5 players. I predict multiple scoring titles, MVP Awards, as the path has already been laid for a Hall of Fame career.
Check out Kevin Durant's Ultimate Career Mix:
Honorable Mentions:
Kevin Love (Age 22), Greg Oden (Age 22) , Thaddeus Young (Age 22), Michael Beasley (Age 21), James Harden (Age 21)
Allen Moll has been a lifelong NBA and NCAA College Basketball fan who watches and studies games religiously, and coaches youth basketball in his native Lehigh Valley region of Pennsylvania.  Allen also provides content to Bleacherreport.com, Upperdeckblog.com, in addition to being a tenured NBA and NCAA columnist for TheHoopDoctors.com.