November 26, 2010 – THD Rumor Patrol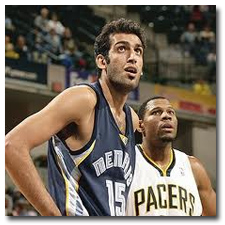 The Memphis Grizzlies rookie and first Iranian player ever to make it to the NBA, Hamed Haddadi, has been arrested this week (as well as his girlfriend) in a domestic dispute.
Police say Hamed Haddadi of the Memphis Grizzlies and his girlfriend have been charged with assault following an altercation between the two.
Memphis police were called Thursday morning to a downtown apartment building and found Haddadi, a backup center from Iran, and his girlfriend with bruises and scratches.
The arrest report says a verbal disagreement turned physical, and both Haddadi and Goolnaz "Asal" Karbalaeinematmoeeney were taken to the Regional Medical Center for treatment.
Grizzlies executives are saying that they are still unaware of the situation but are looking into it. Haddadi has only played in 4 of the Grizzlies 15 games to open the season, and they have a 6-9 record to date.
Read more details via AP on Fanhouse.com