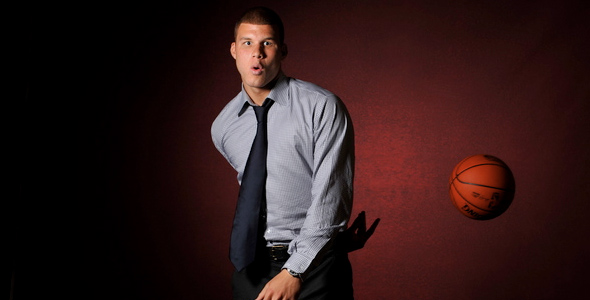 November 26, 2010 – Dr. Browntorious
Blake Griffin is taking the NBA by storm making a serious early campaign for rookie of the year. He may be the new human highlight reel, but he's also putting up big numbers as of late. However, when the TNT crew of Charles Barkley, Kenny Smith, and Ernie Johnson last night were trying to compare him to a legend past, they didn't mention 'Nique but instead compared him to a young Shawn Kemp.
Not only is Blake Griffin living up to the hype that preceded him, he's also showing Clip Nation that he was worth the wait during his first season injury rehab. The Clippers may have gotten off to a slow start due to injury but they are starting to build some momentum after a couple of nice wins led by rookie Blake Griffin. Less than one week removed from his monstrous 44 point, 15 rebound, 7 assist game against the New York Knicks, Griffin again went off big last night for 25 points and 15 rebounds.
Gordon scored 28 points and, Griffin had 25 points and 15 rebounds, leading the Clippers to a 100-82 victory over the Sacramento Kings on Thursday night.

Kaman was sidelined for the eighth straight game because of a sprained left ankle and Baron Davis was sidelined for the 12th time in 13 games because of a swollen left knee. But the Clippers, coming off a 99-95 victory over New Orleans on Monday that snapped a nine-game losing streak, posted consecutive wins for the first time since a three-game stretch last February.

"I was really proud of the way we played, except for the first three or four minutes when we down early and just kind of played sluggish," Griffin said. "Vinny got into us at that point, which we needed because we weren't playing like we should have. After that, we came back and played the way we wanted to.

"Offensively, we were just taking what they gave us," Griffin added. "Defensively, we wanted to turn up the pressure and put the pressure on them to have to make good plays, or get the shot clock low and make them put up a tough shot." (via)