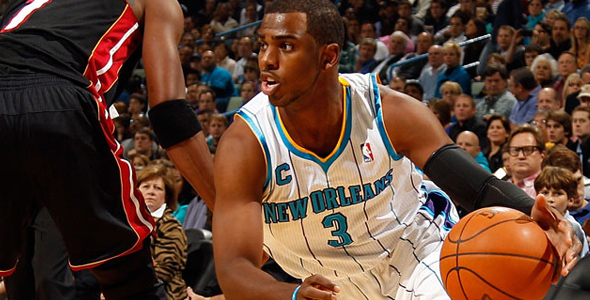 November 9, 2010 – Kevin Burke
As much as basketball fans were waiting for this season to begin, the start of each year isn't always indicative of what will happen down the line. Some teams and players play over their heads early on and some underachieve. I think that it usually takes a few weeks to find the true identity of a team. The New Orleans Hornets fit that mold so far this season. Quietly, the Hornets are 6 – 0 and besides from the Lakers, they are the only undefeated team in the NBA right now. But are they for real?
I'm sure the Hornets work hard in practice and as professionals, I'm confident that they always put their best foot forward. Having said that, I wonder if they themesleves are surprised by how they've started. I have to imagine that they are as they have flown somewhat under the radar so far this year.
During the summer, Chris Paul allegedly was unhappy in New Orleans and was requesting a trade out of the Big Easy. Then shortly after, rumors surfaced that he and Carmelo Anthony would wind up together in New York and form their own Big 3 with Amar'e Stoudemire. None of that happened. Instead the Hornets hired Monty Williams as head coach and tried their best to acquire personnel that would show Chris Paul that they are committed to winning. Their biggest signing was probably Trevor Ariza. Ariza's a solid player but I wonder how impressed Paul was when he found out that the organization's evidence that that they were committed to improving their team was a Trevor Ariza acquisition.
So far this season, the Hornets have beaten a couple of decent squads. None more high profile than the Miami Heat. They defeated Miami by 3 on Friday night in New Orleans. Aside from the Heat, the other 5 wins came against Milwaukee twice, Denver, San Antonio and Houston. Not counting the Rockets, the others were all playoff teams from a year ago. You can't ask much more out of the Hornets than what they are giving you right now.
But how long will it last? Last year in the Western Conference, all eight teams that made the playoffs won at least 50 games last season. All eight of them were very good teams and I really don't see how those eight teams don't make it again. I don't think there will be room for New Orleans in the playoffs this coming season because I think they will come back to Earth a bit. It's early, so maybe they're playing over their heads. What has really helped them though is the play of Chris Paul who is averaging nearly 20 points and 10 assists so far in this young season. Either way, they're off to a great start which I'm sure is making CP3 happy.
If you're looking for your everyday, predictable basketball talk, then go somewhere else, because Kevin Burke of The Kevin Burke Project brings provocative, thought provoking content about basketball as only he can. Kevin also hosts The Hoop Doctors weekly podcast show, which you can subscribe to for free on iTunes. Follow Kevin on Twitter and Facebook