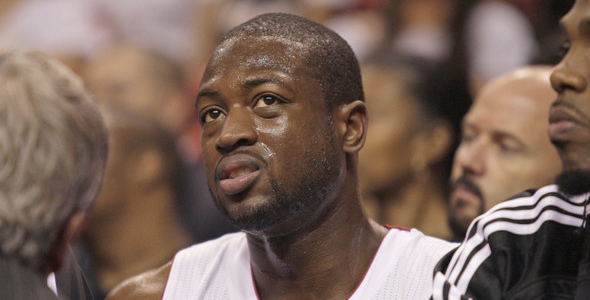 October 6, 2010 – Kevin Burke
The much anticipated debut of the new-look Miami Heat finally came last night in the form of a preseason matchup with the overmatched Detroit Pistons. I know we shouldn't get too caught up in preseason, but for the last 88 days, since LeBron announced that he was going to South Beach, the world has been wondering what it would look like. We finally got glimpse of what it may be. To be exact, we got 3 minutes and 17 seconds worth.
Early in the first quarter, Dwyane Wade was chasing Rip Hamilton around a screen and came up lame, favoring his right hamstring. He gingerly ran on it until Erik Spoelstra subbed in for him. Wade went to the locker room and did not return. Hamstring injuries can be annoying, for lack of a better word, so personally, I wouldn't have Wade anywhere near a basketball court until games really start to count on October 26.
Personally, I find it ironic that Wade got hurt so early in the first game with this new team because I was wondering who would dominate the ball on the perimeter early on to assert himself as "the man". Him or James?  We'll have to wait until October 26 to find that out. But, with Wade going down, that meant that LeBron could run the show. And that's exactly what he did.
But even before the game started, LeBron looked determined, and he also looked tense. Gone (at least for last night) were the overdone pregame antics that he used to orchestrate in Cleveland. When the PA announcer called his name, he walked through, hi-5ing his teammates with absolutely no expression on his face. I'm sure his nerves took over. I was interested to see whether or not LeBron would still do his powder-toss pregame ritual. NBATV showed him walk to the scorers table, put powder in his hands, but then the shot went away from LeBron. When it came back to him, you saw powder in the air and heard the crowd somewhat hyped. I put two and two together and assumed that he did it. If that was the case, I really wish he would've left that in Cleveland. That stuff isn't going to fly on the road anymore like it did last year, but I digress.
What was interesting was that with all of this high powered offense, the Heat committed a 24-second shot clock violation on their second possession. That was strange and was also a byproduct of them overpassing. When Wade exited, LeBron settled down and it looked like he was in Cleveland again. James finished with 18 points on 9 of 18 shooting. He was getting to the bucket whenever he wanted. He knocked down a few Js, no-look passes, and a nice spin in the lane that resulted with a 2-handed dunk which was received well by the sellout crowd of 19,600.  He picked up right where he left off.
The pregame talk in the studio with Steve Smith and Rick Kamala was highlighted by Steve Smith saying that he thought LeBron would average a triple double. That's a tough call, but I don't think he will. His points will be down, but his boards and assists will be up – but not at the point where it's a triple double. (And by the way, is it just me or isn't Chris Webber very good at being a color analyst? He added great perspective and he didn't seem forced he seemed natural. Hopefully we get more of him in that role either on NBATV or TNT this season.)
Oh yeah, Chris Bosh. Almost forgot about him. He looked good too. Bosh had 20 points on 8 of 13 shooting. It's going to be hard for him not to look good on this team. Look for Bosh to be on cruise control this year, and be very efficient as a result of who he's playing with.
Even when Wade, James and Bosh were not on the floor, the Heat were still pulling away from the Pistons en route to an easy 105-89 win. Because I saw the Heat bench contributing, I was left feeling that yes, this will work. However, another question entered my head: "Who's team is this?" The answer to that question was Wade coming into the season, but you know what they say, first impressions are everything. If that's true, LeBron made a good first impression last night.
If you're looking for your everyday, predictable basketball talk, then go somewhere else, because Kevin Burke of The Kevin Burke Project brings provocative, thought provoking content about basketball as only he can. Kevin also hosts The Hoop Doctors weekly podcast show, which you can subscribe to for free on iTunes. Follow Kevin on Twitter and Facebook