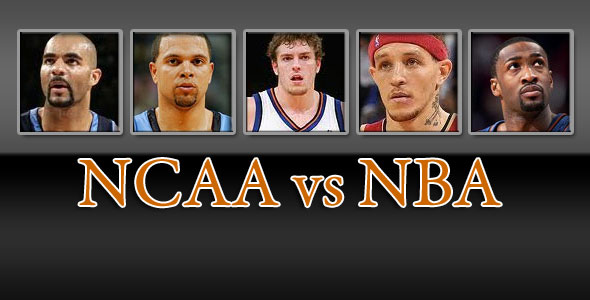 October 05, 2010 – Kevin Burke
If some guys could still have it their way, they would skip that thing they call college and take their talents straight to the NBA right out of high school. Unfortunately for them, they don't have it their way. Sometimes, going to college , or even staying in school too long, can hurt a guys stock. Then you have guys who really need college to prove that they can be a valuable commodity on the next level.
But what really gets me, and what I love to see, is guys who have decent college careers, but then prove to be much better pros than they were college players. Usually it's the other way around where guys will be All-Americans, but never pan out on the next level. Here are my top 5 active NBA players who have proven to be better pros than collegians.
#5: Delonte West
St. Joe's | Drafted #24 overall in 2004 by the Boston Celtics


Playing in the Atlantic 10 Conference, schools like St. Joe's typically get overlooked. However, that wasn't the case for this school six years ago. In the 2003 – 2004 season, the Hawks finished the regular season a perfect 27-0. That was thanks in large part to their standout Point Guard, Jameer Nelson who earned All-America 1st team honors. That was Nelson's senior season and Delonte West's junior campaign. With Nelson leaving, West did the right thing and left too, because there was no way he was going to get any shine the following year without Nelson on the team. Together, they were one of the better backcourts in the land, but make no mistake, that was Nelson's team.  That said, West still had a solid career for St. Joe's, while averaging13.9ppg, 3.0apg, and 4.2rpg.
In the NBA, West has proven to be a valuable contributor to some good teams in his day. Most recently the Cleveland Cavaliers and he'll have the chance to do so again in Boston as he just returned to the Celtics. If you were to ask me when he was just drafted, I never would've thought he would still be contributing to this extent six years later, but he has certainly proven that he belongs.
#4: Carlos Boozer
Duke | Drafted #35 overall (2nd round) in 2002 by the Cleveland Cavaliers


Carlos Boozer played on an extremely talented team at Duke. He played with the likes of Jay Williams, Shane Battier and Mike Dunleavy. He was a good college player, but many thought that he would be a role player-type on the next level. Apparently, he just needed to get out of the shadow of some of his teammates so that he could show off.  Boozer immediately turned heads with his play in Cleveland and after an ugly contractual situation, he would end up in Utah where he would become one of the marquee big men of his era. I sure didn't see that coming when I watched him play at Duke. With his move to Chicago this off-season, the Bulls can't be taken lightly anymore.
#3: David Lee
Florida | Drafted #30 overall in 2005 by the New York Knicks


Believe it or not, Lee only averaged 11.3ppg and 6.8rpg during his four years at Florida and teammates like freshmen Al Horford, Joakim Noah and junior Matt Walsh received attention as well, which cut into his recognition some. What caught the attention of scouts was that he grabbed 9 boards per contest during his senior season. Today, Lee is probably one of the more underrated players in the league. Coming off of a 21ppg and 12rpg season for the Knicks last year, including 53 double doubles, who would've thought David Lee would've eventually become an All-Star?
#2: Gilbert Arenas
Arizona | Drafted # 31 overall (2nd round) by the Golden State Warriors


Say what you want about Gilbert Arena. Call him an idiot. Call him ignorant. Call him a fool. You're right on all three accounts. But you can't tell me that the man can't play basketball. And play it well. I would consider Gilbert one of the top 10 most offensively gifted players in the NBA today. He was (emphasis on was) a franchise player and the face of the Wizards for sometime now. He came out of nowhere to becoming very close to being a marquee player. Had it now been for injuries and guns, he would've been.
But that wasn't always the case for Gilbert. Many weren't that familiar with Arenas in college. Although he averaged 15.8ppg, 3.8rpg and 2.2apg during his days at Arizona, he was somewhat overshadowed by some fellow Wildcats such as Loren Woods, Jason Gardner and Richard Jefferson. In other words, he played on a good team. But that didn't stop him from shining when he got to the league.
#1: Deron Williams
Illinois | Drafted #3 overall in 2005 by the Utah Jazz


DeronWilliams is an interesting situation. At Illinois, not only was he not the best player on his team, he may not even have been the best Point Guard on his team. Dee Brown typically got more love than Williams did handling the ball. Add Luther Head to the mix and that made three guys who could handle on the perimeter. That alone is why I put him number one. I mean, Williams was good at Illinois, but nothing like he is now.
Even though he was taken third overall, I must admit, I was a skeptic. At the time I thought both Chris Paul, andeven Raymond Felton would've been better picks at that spot (Paul went #4 and Felton went #5). Fast forward to today and he's arguably the best Point Guard in the game today. Enough said.
Honorable mention: Michael Redd, Josh Howard and Rajon Rondo.
If you're looking for your everyday, predictable basketball talk, then go somewhere else, because Kevin Burke of The Kevin Burke Project brings provocative, thought provoking content about basketball as only he can. Kevin also hosts The Hoop Doctors weekly podcast show, which you can subscribe to for free on iTunes. Follow Kevin on Twitter and Facebook