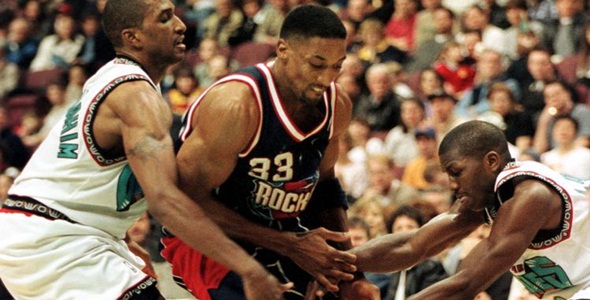 October 4, 2010 – Allen Moll
With the Naismith Basketball Hall of Fame recently inducting former Chicago Bulls great Scottie Pippen into their hallowed halls of greatness, what better time to give one of the NBA's Top 50 Players of All Time his very own multi-part, weekly Player Rewind Series. Scottie was the antithesis of the 5 tool player with supreme abilities to handle the rock, score when needed, or play lock-down defense on virtually any player on the floor. Although he will forever be labeled a "sidekick" to the great Michael Jordan in their magnificent run in winning 6 NBA Titles, Scottie was undoubtedly a great man on and off the court from his humble beginnings in Hamburg, Arkansas to Olympic Gold Medalist, and eventually as a standard of greatness that many players of today's game continue to strive for. Hopefully this series will serve to educate the youngsters about one of the greatest defensive players ever, while at the same time helping to reminisce on just how spectacular a player the man know as "Pip" really was.
Part 6 – Post Chicago Bulls Era
While many of us chose to remember Scottie as one of the vaunted members of the 6 Time World Champion Chicago Bulls or a 2 Time Gold Medal winning contributor for USA Basketball, he did go on to play another 6 seasons with Houston, Portland, and a return trip back to Chicago, which ws cut short due to injuries.
He teamed with Hakeem Olajuwon and Charles Barkley to help take the Rockets to the Playoffs, but lost to eventual champion LA Lakers in the first round. In his 4 seasons in Portland, he became more of a facilitator, rather than scorer and helped lead them all the way to the Western Finals in 2000, only to lose once again to the Lakers.
When it comes to the post-season, Pippen was a mainstay, helping to lead his club to the Playoffs for 16 straight seasons(11 Chicago, 1 Houston, 4 Portland) and ranks 3rd all-time in Playoff games played behind only Robert Horry and the great Kareem Abdul-Jabbar.  Immediately after retirement Scottie attempted to work as an on-air analyst for the Bulls as well as a stint as a studio analyst for NBA on ABC and ESPN.
In December of 2005, the Chicago Bulls retired Scottie's #33:
In January of 2008, Scottie once again got the itch to play and made a comeback overseas when at age 42, he played 4 games total for teams in Finland and Sweden:
Then amidst financial problems, Scottie decided to star in a short film titled Midgets vs. Mascots, where as you can figure out,……….Scottie gets beat up by midgets:
Allen Moll has been a lifelong NBA and NCAA College Basketball fan who watches and studies games religiously, and coaches youth basketball in his native Lehigh Valley region of Pennsylvania.  Allen also provides content to Bleacherreport.com, Upperdeckblog.com, in addition to being a tenured NBA and NCAA columnist for TheHoopDoctors.com.