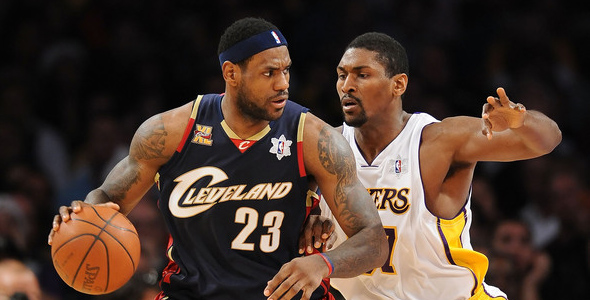 October 15, 2010 – Kevin Burke
Sorry to beat this whole LeBron thing to death, but it just took an interesting turn. One that it hasn't taken before and is something that I think is noteworthy enough to point out and discuss. Since LeBron elected to head to Miami, naturally he's experienced a whirlwind of hate from fans. Now we finally have an active NBA player officially hate on LeBron and I think it's a by-product of his decision.  Ron Artest of the Los Angeles Lakers threw verbal darts in the direction of LeBron.
Artest said that he thinks Kevin Durant is the second best player in the league (acknowledging that Kobe is #1). That alone doesn't necessarily sound like hate, but it was how he said it:
"Kobe's got five rings, six game winners [last year]. [He's] the biggest shot maker, big shot maker. [Durant] was a tough cover for me last year [in the playoffs]. So, that said, Durant's the second best player in the NBA." Artest was then asked where LeBron falls on his list and he responded, "I only count to two. I've been out of school 15 years, so I only count to two."
The fact that he joked (hopefully he is in fact joking) that he can only count to two and made the concerted effort to not mention LeBron's name is a direct sign of disrespect. LeBron is the two-time reigning MVP and Ron didn't even put him into the discussion.  I realize that Artest had to deal with Durant up close and personal in the first round of last year's playoffs, so he understands how difficult Durant is to check, but you have to admit that if LeBron was still in Cleveland, Ron probably wouldn't have excluded him from the conversation all together – even if he does feel that Durant is better.
I was wondering how long it was going to take before LeBron felt the heat (no pun intended) from his peers around the league. Ron just made it OK for other guys in the Association to take a jab at LeBron now if they feel inclined.
Last week, Dwight Howard was asked who he thought was the better player between Durant and James and Dwight said, "I'm gonna go with Kevin." I don't see that as LeBron hate. I just see that as his honest opinion. That's a little different that Artest's answer.
Earlier in the week, we saw Kobe Bryant react fairly convincingly and perhaps somewhat annoyed when questioned by reporters if he could beat LeBron 1-on-1. Bryant assured everyone in the room that he would definitely win. It's not that Bryant said that he'd win (Because what's he supposed to say? That he wouldn't win?). It was the manner in which he said it. I don't want to read too much into Kobe's response, but again, would his response have been so kurt if LeBron was still in Cleveland? However, I don't consider Kobe's reaction to that as taking a shot at LeBron. That's just Kobe.
Kobe is also probably pretty annoyed because there was no attention on him and the Lakers this summer and his name isn't getting mentioned as much as he'd probably like in the early MVP talks.
But, Ron has officially opened the flood gates. Let's see what else flows through.
If you're looking for your everyday, predictable basketball talk, then go somewhere else, because Kevin Burke of The Kevin Burke Project brings provocative, thought provoking content about basketball as only he can. Kevin also hosts The Hoop Doctors weekly podcast show, which you can subscribe to for free on iTunes. Follow Kevin on Twitter and Facebook