October 6, 2010 – Allen Moll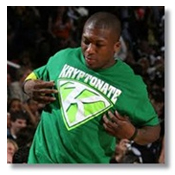 We all know that little Nate Robinson loves to have fun on and around the basketball court. When he isn't in the game, he usually is his squad's biggest cheerleader, often finding it difficult to contain and control himself during a game's crucial moments. Sometimes his playful demeanor can hurt his teammates like when he shot the ball into the wrong basket, as a member of the NY Knicks.
But once Shaquille O'Neal, a notorious prankster in his own right, joined the Boston Celtics roster this Summer, we should have figured that the two self described "big kids", or twins in some respects, would constantly try to one-up each-other. "The Big Shamrock", as he now likes to be called, started the whole rivalry going by boasting that even though Nate has won 3 Slam Dunk Titles, he will never, ever, be able to throw one down over him.
That's all little Nate had to hear. Doesn't this remind you of the stunt from "Jackass" when the 300+lb big guy in diapers chases around the 3 foot tall Wee-man?
Here's Nate once again picking on Big Shaq by giving him salt water to drink, with an assist from Paul Pierce:
Here's Nate shutting down Celtics practice as he runs baseline to baseline in Shaq's gigantic shoes:
Here's Nate pelting a sleeping Shaq with popcorn during a team building movie session:
Word of advice for Nate Robinson. Haven't you ever heard of "Don't wake a sleeping giant?" Surely Shaq will get his revenge.
Allen Moll has been a lifelong NBA and NCAA College Basketball fan who watches and studies games religiously, and coaches youth basketball in his native Lehigh Valley region of Pennsylvania.  Allen also provides content to Bleacherreport.com, Upperdeckblog.com, in addition to being a tenured NBA and NCAA columnist for TheHoopDoctors.com.