October 18, 2010 – THD Rumor Patrol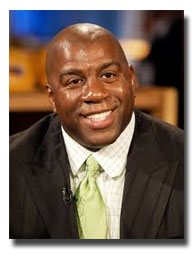 It's a sad day for Lakers fans, but a great day for Magic Johnson and his fans as his he has sold his share in the Lakers which will free him up financially to own a greater stake in another NBA team in the future….
Magic Johnson sold his small ownership stake in the Los Angeles Lakers to Dr. Patrick Soon-Shiong on Monday, possibly clearing the way for the Hall of Famer to own a bigger portion of another NBA team in the future.
Johnson bought shares representing about 4.5 percent of the Lakers in June 1994 for a reported $10 million. Johnson said the sale was strictly a "bittersweet business decision," but the five-time league champion has long been interested in taking a larger ownership role in an NBA franchise.
"I thank Dr. (Jerry) Buss from the deepest part of my heart and soul for allowing me such an incredible opportunity," Johnson said in a statement. "I will continue to work alongside Dr. Buss, Jeanie Buss and (general manager) Mitch Kupchak in their efforts to continually build and maintain the best NBA franchise in the league."
Johnson spent his entire 13-year playing career with Los Angeles, including a 32-game comeback in 1996 nearly five years after his retirement. He has been a successful businessman since leaving the sport, excelling in commercial real estate ventures including movie theaters, restaurants and health clubs.
"The sale of Earvin's share of the team is a business decision which will not change our relationship," Buss said. "Our friendship goes well beyond business. Patrick is a longtime and passionate Lakers fan, and we are delighted to have him as a partner."
Johnson, who also briefly coached the Lakers, has been a regular presence around the Lakers in recent years when he isn't working as a broadcaster.
"I want to assure all the wonderful and loyal Lakers fans that my decision will in no way affect my dedication and support for the Los Angeles Lakers," Johnson said. "I am and will always be a Laker for life."
Yet Johnson has ambitions that go beyond a 4.5 percent stake in a team, and realizing those ambitions would require him to sell his stake in the Lakers.
The Michigan native expressed interest last month in taking a significant role in a group attempting to buy the Detroit Pistons led by Mike Ilitch, who also owns the Detroit Red Wings and Detroit Tigers. Ilitch's group hasn't publicly made any connection with Johnson.
Read more details via AP on NBA.com