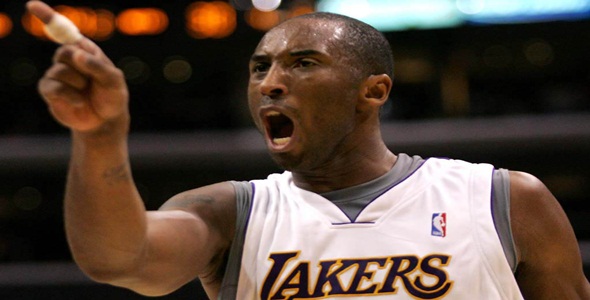 October 14, 2010 – Allen Moll
For the past several seasons all world NBA superstars Kobe Bryant and Lebron James have been constantly compared and analyzed, as arguably the game's top two players. While Lebron has garnered the coveted league MVP honors the past two years, Kobe has done what he does best……….win titles.
While Lebron may have the edge when it comes to statistics, Kobe as he enters his mid-30's, has a clear advantage when it comes to ranking the game's best clutch shooters and all-time NBA Champions as he will be attempting this season to join the G.O.A.T, Michael Jordan, in completing his second three-peat, and winning his 6th overall World Championship.
Now, some of today's younger generation's fans my argue that Lebron is the better player, while fans who have witnessed the older generations of players favor Kobe, the debate will surely wage on until retirement, or until last season's scoring champ Kevin Durant overtakes one or both of them (It's already close).
Kobe Bryant, in Europe for the NBA Preseason, recently gave an interview in London where the age old question of who is better, he or Lebron, not surprisingly came up. While Kobe has been known to spit lyrical daggers at opponents in the heat of the moment, the league has been proud to use him as one of their most marketable players and spokesmen because of his usual even temperment in front of the camera.
The London media must have caught the Black Mamba on a bad day as he arrogantly proclaimed to the interviewer that, "He'd win, and he could do it in his sleep." While sporting his trademark smirk, Kobe compared Lebron to Hall of Famer Magic Johnson as a great all-around player but cautioned everyone that playing  one-on-one is "his thing" and again that he could beat him "in his sleep."
Those sound a bit like fighting words to me. It looks like the old Kobe is back and on a mission. Maybe he's a tad bit peeved that all the off-season attention has been focused on Lebron and his new teammates on South Beach this Summer, while Kobe's LA Lakers squad should once again the favorite to take home another NBA crown.
Maybe the league would be wise to scrap the mid-season Slam Dunk Contest and set up the Kobe vs Lebron match-up?  I'd tune in for that.
Check out Kobe setting the London media straight:
Allen Moll has been a lifelong NBA and NCAA College Basketball fan who watches and studies games religiously, and coaches youth basketball in his native Lehigh Valley region of Pennsylvania.  Allen also provides content to Bleacherreport.com, Upperdeckblog.com, in addition to being a tenured NBA and NCAA columnist for TheHoopDoctors.com.