October 4, 2010 – THD Rumor Patrol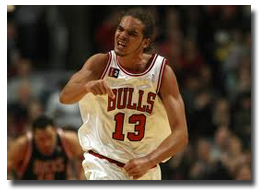 The Chicago Bulls have confirmed fourth-year center Joakim Noah(notes) agreed to a multiyear contract extension.
The team announced the deal Monday but did not release contract terms per team policy.
Bulls GM Gar Forman says Noah's presence "is immeasurable and we look forward to him to continue to improve and develop his game."
The Chicago Tribune reported Sunday that the contract is worth about $11 million per season plus incentives. Noah will make about $3.1 million this season.
Noah is coming off a breakout season in which he averaged 10.7 points and 11.0 rebounds while battling plantar fasciitis in his left foot that kept him out of 18 games.
Chicago begins preseason play Tuesday night.
Read more details via AP on Yahoo! Sports