September 27, 2010 – THD Rumor Patrol
Could this be just trash talk, or is McGrady really finally back to full health and fitness and ready to regain the form of the lethal scorer we once knew and loved….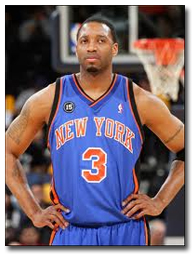 Even at age 31, time was beginning to run out for Tracy McGrady.
After two seasons ruined by knee problems, McGrady approached this offseason with determination and urgency.
"I was going to work hard. I was going to give it a shot," McGrady said. "If it didn't work out this offseason to where I didn't feel well, that was going to be it for me, because it was just too much to really come back from."
Now, McGrady says he's healthy and at ease, and he's awaiting another chance to revive a career that once looked so promising. The two-time NBA scoring champion signed with the Detroit Pistons last month, and he'll have a couple of new teammates who can relate to his struggles.
Richard Hamilton and Tayshaun Prince are also trying to bounce back from injury-plagued seasons, forming a potential logjam for the Pistons on the perimeter for coach John Kuester to resolve.
"Coach, he's going to have a good time," Hamilton said. "When you've got a lot of special guys that can put the ball in the basket and play … it's a good thing for a coach. You're never really worrying a lot."
McGrady had major surgery on his left knee in February 2009, and a year later he was traded from Houston to the Knicks. He started all 24 games he played with New York but averaged only 9.4 points.
At Detroit's media day Monday, McGrady described some difficult nights watching basketball and wondering what had become of his career.
"It was frustrating. There were times when I actually teared up when I was by myself. … When you go from being one of the elite players in this league and you have this injury, it's tough," McGrady said.
"I've been fighting my whole career to try to advance in the playoffs, and then an injury comes about, and I sit in Chicago and watch my team (the Rockets) advance to the second round and fight the Lakers hard in a Game 7, and I'm not able to help those guys out."
Read more details via the AP on NBA.com