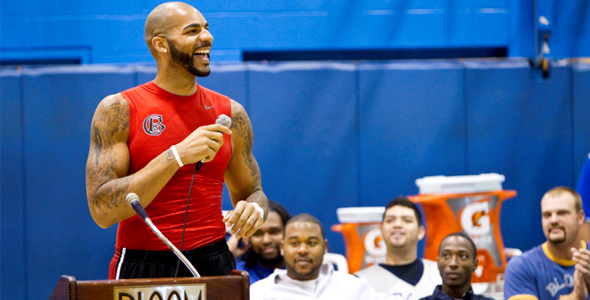 September 13, 2010 – Kevin Burke
Back for it's 3rd season, the award-winning Gatorade REPLAY stages re-matches of classic games between some the nation's best high school sports teams and gives former teammates the chance to prove once you're an athlete, you're always an athlete. This year, it reunited two South Side Chicago high school basketball powerhouses, Bloom Township and Brother Rice, whose 2000 super sectional game ended after a questionable last second tip in at the buzzer.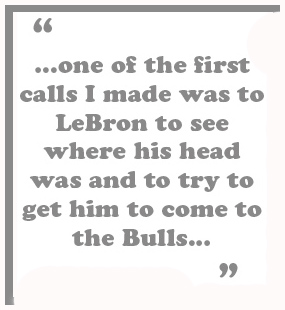 This past Saturday, the two teams played the re-match game and the honorary commissioner for the event was Carlos Boozer of the Chicago Bulls. The Hoop Doctors were at the game and had the chance to catch up with Boozer shortly before tip-off.
Kevin Burke: Hey, Carlos. Kevin from The Hoop Doctors, here. Thanks for making yourself available for a few minutes. So, you're in Chicago for the Gatorade REPLAY Game. Tell me, what do you think about the concept of the game?
Carlos Boozer: Man, I tell you what. The concept is amazing. As an athlete, you always go back and replay games in your mind and tell yourself what you should have done differently. It's really great that Gatorade is giving these two teams the chance to go back and relive that game. Both of those teams have really been working their butts off for the last eight weeks to get into game shape. The Gatorade Sports Science team did a great job in getting these guys ready through their training program so it should make for a very exciting and competitive game.
Kevin Burke: Give me one game in your life that you wish you could replay.
Carlos Boozer:You know, I've thought about that. I would have to go back to my days at Duke. We were playing Indiana in the Sweet 16 (in 2002) and we were up by 19 in that game. Then in the second half, (Tom) Coverdale from Indiana hit about 5 or 6 or 7 3-pointers and before you knew it, we were down 4. Then Jay Williams hits a 3, so now we're down 1. Then he gets to the free throw line with the chance to tie the game. He missed the free throw, I grabbed the rebound and went right back up with. I thought I was fouled. Maybe I was, maybe I wasn't. Who knows? The put back didn't go in and we lost by 1. Indiana went on to eventually lose to Maryland for the National Championship. I mention this game because we had a shot to win back to back titles, but it didn't happen.
Kevin Burke: I remember that game well. You're the commissioner of this REPLAY game so you get to play David Stern for a day. What exactly does that entail for you?
Carlos Boozer: Well, I'm just going to make sure that the games goes off without a hitch and that things go smoothly. So if the lights go out and we need to use battery operated lights, then I'll be changing batteries so that the game can be played.
Kevin Burke: So we have Bloom vs. Brother Rice. What do you expect from these two powerhouse schools?
Carlos Boozer: It's going to be a great game. These guys are in great shape so I expect a lot. They've been working hard for two months so it should be competitive. I'm not going to pick a winner but I'm looking forward to watching a good game.
Kevin Burke: Switching to you for a minute, Carlos. How does it feel to be a Bull?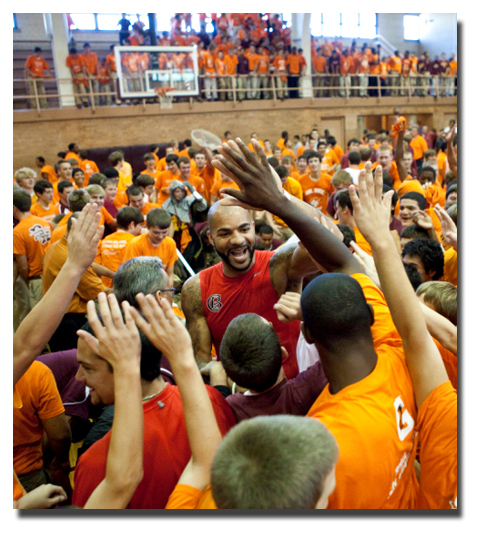 Carlos Boozer: I'm very excited. After watching MJ and Scottie and those guys growing up and realizing the history of this franchise, it's an honor to wear a Bulls uniform.
Kevin Burke: Was there something about Utah that kept you from re-signing with them this summer?
Carlos Boozer: No, not at all. It wasn't anything against Utah. I really enjoyed my time there, but what they had going on in Chicago was very attractive to me. They have a good Center (Joakim Noah), a good Point Guard (Derrick Rose) and a scoring wing in Luol Deng. I feel like all of the pieces are in place. Even the head coach Tom Thibodeau. He's comes from a winning tradition in Boston, where they almost won it again last year.
Kevin Burke: Was there another team that gave Chicago a run for their money?
Carlos Boozer: Well, I could've stayed in Utah because like I said, I enjoyed my time there. But the opportunity in Chicago seemed overwhelming. I love the DNA here and I feel like we could be contenders all over again.
Kevin Burke:There was speculation that many players waited until LeBron and other free agents signed so that they could sign there contract. Did that have an impact on you?
Carlos Boozer: That definitely had an impact of guys across the league, but not necessarily for me because I signed before he did. But when I became a member of the Bulls, one of the first calls I made was to LeBron to see where his head was and to try to get him to come to the Bulls, but obviously he ended doing what was best for him. But I tell you what, this is an exciting time in the NBA. If you don't like the NBA, you'll probably be watching this year.
Kevin Burke: The Bulls have been backcout heavy of late and you balance that out. What can Bulls fans expect from you?
Carlos Boozer: I'm going to bring my leadership. We have guys in place here that are hungry. Guys that want to win. When the playoffs come, just know that you're going to have to watch out for us. We are not to be taken lightly. It's a good time to be a Bulls fan.
Kevin Burke: Well, we'll be watching to see how you and Derrick Rose gel this year. Best of luck and thanks for a few minutes.
Carlos Boozer: Not a problem at all. Have a good one.
If you're looking for your everyday, predictable basketball talk, then go somewhere else, because Kevin Burke of The Kevin Burke Project brings provocative, thought provoking content about basketball as only he can. Kevin also hosts The Hoop Doctors weekly podcast show, which you can subscribe to for free on iTunes.