September 10, 2010 – THD Rumor Patrol
Kevin Durant really took care of business as the US beat Russia to advance to the Semi-Finals. Durantula is on pace to be considered in this tournament as one of, if not the best, player in the world….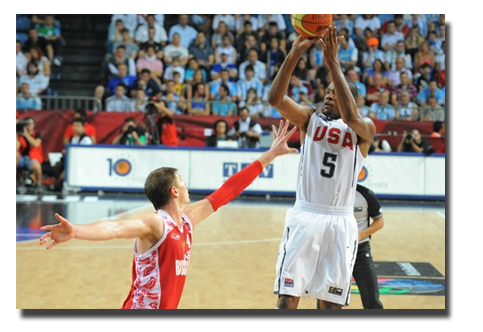 And by beating Russia on Thursday, the Americans brought a little joy to one of the players who will never forget what happened against the Soviets exactly 38 years earlier.
Durant scored 33 points to lead the United States to an 89-79 victory that moved it within two wins of its first world basketball championship since 1994.
The victory came on the anniversary of the Soviet Union's win over the Americans for the 1972 Olympic gold medal, a game with an ending so controversial the U.S. players refused to accept their silver medals.
No player on the young American team is old enough to remember that game— many are barely old enough to remember the Cold War. But Mike Bantom, the NBA's senior vice president of player development, played on that U.S. team and is in Turkey with the Americans.
"I told him today, 'I know nothing's going to bring that back, man, but at least we'll try to make you at least smile today,' " Billups said. "And he was like, 'Yeah, that'd be nice."'
Durant ensured there would be no worries at the finish of this one, shooting 11 of 19 while just missing Carmelo Anthony's(notes) world championship team record of 35 points, set in 2006.
"We're going to go to him," U.S. coach Mike Krzyzewski said. "I've learned in coaching you should get your best player the ball."
The U.S. will play Saturday against Lithuania, which beat Argentina 104-85. Host Turkey and Serbia will play in the other semifinal.
Read more details via Yahoo! Sports