September 10, 2010 – Allen Moll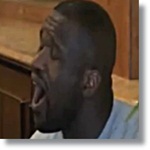 Recently, future Hall of Fame big man Shaquille O'Neal has been on fire, seemingly showing up everywhere, while enjoying a resurgence in the national media, as the newest member of the Boston Celtics. Just last week he crashed a random couple's wedding reception, only days after pics of his newest girlfriend Nikki "Hoopz" Alexander went viral on the internet.
He has also been busy filming new episodes for Season 2 of the highly addictive "Shaq Vs" television show. We even gave you a sneek peak of an episode where O'Neal takes on competitive eating champion Joey Chestnut as a contestant in a hot dog eating contest. He even recently made the rounds on the local late night talk show circuit making stops on Jay Leno and Jimmy Kimmel.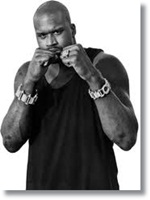 Shaq also has been known to dabble in the music business as he has released 6 rap albums, with his debut effort in '93 even going platinum. This past Summer, O'Neal made an appearance at a Justin Bieber concert, and sang a duet with the pint sized mega-star during rehearsals. Everyone by now has seen his humorous duet with Will Ferrell on Saturday Night Live a few years ago.
Now I'm sure his new coach Doc Rivers and the rest of the Celtics coaching staff hope the 15 time All Star will start to put his focus back on conditioning and basketball with training camp just around the corner. They quickly learned that Shaq just can't stay away from a camera as he recently put on an impromptu concert by sitting behind a piano and promptly lip syncing Peter Cetera's "The Glory of Love", made famous in the movie "The Karate Kid II".
Perhaps Shaq is just a huge fan of Ralph Macchio or Mr. Miyagi…….., or his new nickname should be "Peter Shaq-tera."
Allen Moll has been a lifelong NBA and NCAA College Basketball fan who watches and studies games religiously, and coaches youth basketball in his native Lehigh Valley region of Pennsylvania.  Allen also provides content to Bleacherreport.com, Upperdeckblog.com, in addition to being a tenured NBA and NCAA columnist for TheHoopDoctors.com.