September 2, 2010 – THD Rumor Patrol
Maybe after these Kobe comments the bromance between Kobe Bryant and Lebron James will come to a close?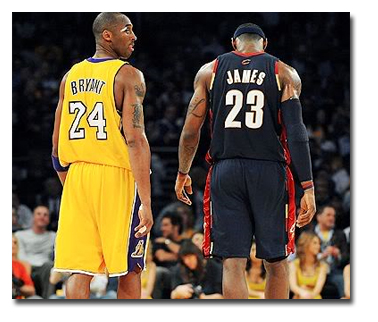 Fisher was sharp with some follow-up questions and got Bryant to talk about how he, personally, would not have done what LeBron James did in leaving Cleveland. Some have observed that Bryant was revising his history, which includes him being perfectly willing to leave the Lakers to win.
What Bryant meant in his answer that he wouldn't have done it is that he wouldn't have left to work with another superstar the way James did with Dwyane Wade. In fact, Bryant was tempted to leave the Lakers in 2004 to get away from Shaquille O'Neal's shadow. Bryant would only leave to build around himself, telling Fisher: "I'm as stubborn as a mule."
Bryant tried to clarify that it wasn't "a knock" on James, saying: "We're different. He's a different person than I am. You can take that as a positive or a negative."
It's a somewhat moot point anyway with Bryant now telling Fisher: "I'm definitely not playing for another team."
Read the full story with video via Orange County Register