September 11, 2010 – THD Rumor Patrol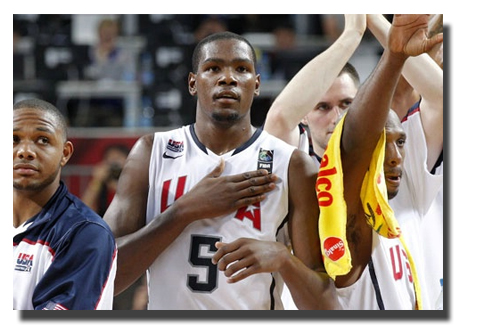 Kevin Durant is unlike most of America's biggest basketball stars. He couldn't wait to wear the red, white and blue this summer.
Especially on Sept. 11.
With a special memorial message on his sneakers, Durant carried the United States into the gold-medal game at the world championship, scoring a U.S.-record 38 points Saturday in an 89-74 victory over Lithuania.
"I just wanted to remember everybody back in the States, everybody that was affected by 9/11," Durant said. "And to play on this day was a great honor and we just tried to do our best to play hard for our country and our families."
Durant soared over defenders or stepped away from them for 3-pointers, scoring 17 in the first quarter to stake the Americans to an early lead that was never seriously challenged.
He went on to surpass Carmelo Anthony's single-game record of 35 points and raise his average in the tournament to 22.1, which would be the best ever by a U.S. player.
"I've seen him score 45, 35, back-to-back," guard and NBA teammate Russell Westbrook said. "It doesn't surprise me at all what he's been doing."
More importantly, Durant guaranteed the Americans a chance at their first world title since 1994. They will play Turkey or Serbia on Sunday.
"That's what we came here to do," guard Eric Gordon said. "We're a young team and we fight through a lot of adversity and that's what we're here for, to win the gold."
There was some doubt this team was the one that could end the U.S. drought after all the superstars from the 2008 Olympic gold medalists declined to play this summer. But Durant kept saying yes, and he's on the verge of going down as the most accomplished U.S. player ever in this event.
Read more game details and box score on ESPN.com