September 13, 2010 – THD Rumor Patrol
The Bleacher Report newsletter just informed us of the ESPN report that the Golden State Warriors have won the fight with the New Orleans Hornets to land power forward free agent Louis Amundson. 'Lou' may not be a big name addition, but he will have significant impact for the Warriors, especially since they play a similar style to the Phoenix Suns run and gun offense. He's as scrappy and energetic as they come, and the Warriors will be better off for it…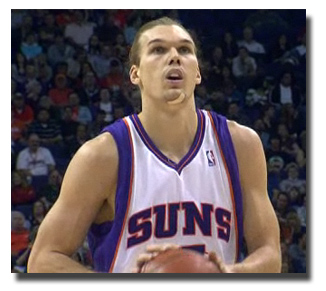 Power forward Louis Amundson, arguably the NBA's top remaining unsigned free agent with just two weeks left before training camps open, has agreed to a new deal with the Golden State Warriors, according to his representative.
Chicago-based agent Mark Bartelstein told ESPN.com that Amundson, after narrowing down his final two choices to Golden State and New Orleans, opted Monday to accept the Warriors' offer.
The deal is a two-year contract worth nearly $5 million, according to sources close to the situation. Amundson, who has traveled to Oakland to sign the deal later Monday, will receive a player option for the second season.
The Hornets had been pursuing Amundson hard to join the recently acquired Trevor Ariza as a key newcomer, with new general manager Dell Demps flying to Los Angeles in August to lobby the former Phoenix banger face-to-face and present him with a Hornets jersey.
But with the Hornets still possessing roster spots left to fill with only 11 players under contract and thanks to a $1.25 million performance bonus Hornets center Emeka Okafor is expected to trigger in his contract by season's end, New Orleans couldn't start Amundson's contract at higher than roughly $1.9 million without straying into luxury-tax territory.
Read more details via ESPN