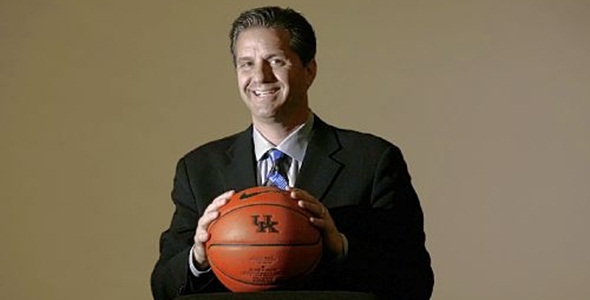 August 6, 2010 – Allen Moll
With the college game's best players every season continually coming from the freshman class, nothing is more important than recruiting to an NCAA coaching staff. Regal recruiters like John Calipari at Kentucky, Thad Matta at Ohio State, and Bruce Pearl of Tennessee annually get commitments from elite level recruits in an attempt to not only remain in the Top 25 polls but to seemingly be in the conversation for a National Title every year.
Last season, top tier teams like Kentucky, Texas, Villanova, North Carolina, and Georgia Tech helped to replenish their rosters by securing Top 5 recruiting classes. Of course Calipari, in his first season in Lexington led the way with an impressive 5 man class, with all recruits ranked in the Top 40 players in the nation. Four of those players proved to be one-and-doners and have parlayed their success at the collegiate level into NBA careers, led by #1 overall pick John Wall. Coach Cal was at it again for the '10-'11 season by again hitting recruiting gold by landing quite possibly a better all around class featuring 5 players ranked in the Top 35 in the nation, led by 2 time National HS Player of the Year, Brandon Knight.
Check out my Top 10 Recruiting Classes for the 2010-2011 Season (player ranking in parenthesis):
1) Kentucky
PG – Brandon Knight(6)
PF – Terrence Jones(13)
SG – Doron Lamb(21)
SF – Stacy Poole(33)
C – Eloy Vargas(JC transfer)
In what looks to be an annual occurence, Coach Cal has proven to be the best recruiter in the country by universally holding down the #1 recruiting class in the nation for the 2nd year in a row. Replacing all world talent like Wall and Cousins seems like no small feat for Calipari, as he is bringing in a tremendous class led by Turkish big man Enes Kantner, who may have the biggest upside of any player in the class. National POY Brandon Knight takes over point guard duties, while the sharpshooting Lamb and Poole give UK impressive punch from the wings. But the true gem of the entire class could be Jones, who at 6'9 and 225 lbs, is a five tool player and possess an amazing skill set including above average ball-handling skills from the PF position.  Vargas is a former Top 100 player in the '07 class, formerly committed to Florida.
2) Ohio State
PF – DeShaun Thomas(22)
SG – Jordan Sibert(39)
PG – Aaron Craft(111)
SG – Lenzelle Smith Jr(132)
PF – JD Weatherspoon(135)
Coach Matta continues to get commitments from elite level recruits as he once again has secured a Top 3 recruiting class in the country led by Sullinger, who should immediately be one of the Big Ten Conference's best players. At 6'8 and 260 lbs, he has an NBA ready body and is already a beast in the low post. The remaining 5 players in the class are all Top 150 talents featuring Sibert and Craft in the backcourt and five star PF Thomas, all of whom played together on the Ohio AAU circuit. Matta's impressive freshman class should help offset the loss of last year's NCAA POY Evan Turner, now in the NBA
3) Memphis
SF – Jelan Kendrick(15)
PG – Joe Jackson(18)
C – Tarik Black(54)
PG – Antonio Barton
C – Hippolyte Tsafack
Second year head coach Josh Pastner has apparently learned well from his mentor Calipari since he has also secured an impressive 6 player class, including 3 players ranked in the Top 20 players in the nation. The unquestioned gem is Barton, who although slender in frame, is one of the freshman class's best pure scorers and reportedly turned down bigger programs to play for the Tigers. Kendrick is a 3 position wing player, with tremendous athleticism, who has the ability to get to the rim as well as anyone in the class. Local Memphis natives Jackson and Crawford help to solidify the backcourt while Black is a high energy rebounder and shot-blocker.
4) North Carolina
SG – Reggie Bullock(10)
PG – Kendall Marshall(32)
PF – Justin Knox(Transfer)
After having a tremendous incoming class fizzle on the court last season, coach Williams and the Tarheels have brought in additional reinforcements to the tune of 3 Top 35 players in the country, along with securing Alabama transfer Knox. UNC beat out rival Duke, among others in a tense and drawn out recruiting battle for Barnes, and rightfully so, since he clearly has one-and-done potential and is often referred to as the best overall player in the entire class. They also get a boost in the backcourt with the additions of Bullock, a big, elite level shooter, and the underrated Marshall, who is a college ready point guard who could be starting by mid-season. Knox was a former Top 100 recruit from the '07 class and with decent size(6'9) will be looked upon to provide depth up front with the departure of the Wear twins to the West coast.
5) NC State
PG – Ryan Harrow(19)
PG – Lorenzo Brown(36)
Coach Sidney Lowe's NBA ties have apparently finally paid off as he secures his first Top 5 recruiting class heading into next season. Even though it's only 3 players, all have the potential to be game changers from day 1. The big get was obviously Leslie, who could emerge as the college game's most exciting player, succeeding Kentucky's John Wall last season. Although listed as a PF, Leslie is one of the game's best slashers and can score in bunches, with most of them of the Sportscenter variety. Very few players, if any in all of the class, possess the athletic skill-set of Leslie as ACC fans will take immediate notice. Five star point guard Harrow is explosive as they come and is one of the college ranks' more underrated floor generals. He along with backcourt mate Brown, can score at will, instantly giving the Wolfpack a much needed boost on offense.  The versatile Brown, originally from the '09 class, can play 3 positions ranging from 1, 2, and 3.  Behind such a touted class, look for the Wolfpack to be one of the pleasant surprises during the season.
6) Syracuse
SG – Dion Waiters(29)
PF – CJ Fair(94)
C – Baye Moussa Kieta
One area of obvious strength for coach Boeheim and staff at Syracuse has always been on the recruiting trail as he once again brings another star studded cast to play their home games in the Carrier Dome. For half of his get, he went the international route by snagging a commitment from the enigmatic Melo, the #2 rated center in the class with the catchy name, ranking only behind Ohio State's Sullinger. At 7'1 and nearly 300 lbs, Melo has an NBA ready body and low post skills to boot, and should be a star from the onset.  Also from abroad, Kieta is a shot blocking specialist from Sudan.  To serve as reinforcements from the wings, Waiters is sneaky good, as one of the best scoring 2 guards in the class and Fair is versatile SF, who should help offset the loss of Wes Johnson to the NBA.
7) Texas
PF – Tristan Thompson(17)
What coach Barnes' class lacks in quantity, it surely makes up for in quality since both players have the potential to be NCAA stars from the get-go. Signing Joseph late in the signing period fills an immediate need at the point, which was an obvious weakness last season. Joseph comes highly touted and is a 5 tool player giving the Longhorns an all around and supremely talented floor general who can score, defend, and be a leader for the foreseeable future. Joining him will be HS teammate Thompson, who is a dominating PF with an amazing skill-set that has the NBA written all over it. He has the type of game that constantly makes him the best player on the floor no matter who the opponent. Not the typical 4 man, Thompson can also put the ball on the floor as a slasher, as well as possessing an excellent long range jump shot. Think of a bigger, poor man's Kevin Durant.
8) Michigan State
PG – Keith Appling(38)
SF – Russell Byrd(115)
PF – Alex Guana
After only losing Raymar Morgan to graduation, coach Izzo brings in another stellar freshman class to add to an already potent lineup in E. Lansing. Payne is an elite level big man, who has tremendous potential to be a star on the collegiate level. Since State is already stocked with upperclassmen bigs, he may have to earn his minutes with upwards of 3 talented upperclassmen ahead of him.   Appling, one of the better scoring guards in the country will probably make a more immediate impact, expecially if Kalin Lucas experiences any lingering issues from Achillies surgery. Appling loves to attack off the dribble and will provide plenty of youtube worthy ankle breaks when given playing time. Byrd is a great catch-and-shoot type of big, while Guana provides added depth to the already stacked frontcourt.
9) Duke
PF – Joshua Hairston(56)
PG – Tyler Thornton(140)
Five star, elite guard prospect Kyrie Irving should start from day one for the defending champion Blue Devils. He's just that good, and continues to get better as he has proved on the AAU and USA Basketball circuits. Irving is arguably the most complete point guard in the entire class and will actually be an upgrade from the departed John Sheyer, from an athletic standpoint alone. He can dish, score, or defend with the best of them and should be one of the college game's biggest stars as a freshman. Hairston is an inside/outside threat from the PF position that oozes potential, while Thornton is another backcourt player to provide depth on coack K's bench. Look for Irving to make the immediate splash.
10) Tennessee
SG – Jordan McRae(47)
SG – Trae Golden(63)
Coach Pearl may have outdone himself this time by securing another Top 10 class for next season. After recovering nicely from the Tyler Smith program tarnishing incident, the Vols made a Final Four run and secured a spot among the nation's Top 20 programs. Pearl has done his part by continually getting top tier recruits like Harris, who is the gem of the class. As a Top 5 talent, he will be a nightmare to defend both in the post and on the wing as he is a multi-dimensional player. Not many have the size and skill-set as the former McDonalds All American and possible one-and-done player. McRae is another versatile wing who can score both off the dribble and catch-and-shoot varieties. Golden is a perfect backcourt compliment to McRae, as a bigger combo guard who is at his best off the dribble.
Next 5 –
Wake Forest – SG JT Terrell(57) and SF Travis McKie(53)
The Demon Deacons continue to recruit on a national level as Terrell and McKie could prove to be instant sensations from the start. Especially watch out for Terrell, as he scores as easily as anyone as a freshman and could be one of the hidden gems of the entire class. McKie is a versatile scoring forward who should be a starter as a freshman
Illinois – C Myers Leonard(31) and SF Jereme Richmond(35)
Bruce Weber's Illini almost cracked my Top 10 behind a great incoming class led by imposing big man Leonard and explosive wing Richmond. The real difference-maker is Richmond, who could prove to be an elite caliber 5 tool player. His already potent offensive game is slightly ahead of his defense but he has the potential to be one of the best Big Ten players as a Freshman. Leonard is the #5 rated center prospect in the class and gives them an immediate low post presence.
Missouri – SF Tony Mitchell(15) and PG Phil Pressey(61)
Coach Anderson adds some much needed star power to his line-up, especially with Mitchell, who is an elite level athlete, who could be one of the Big 12's top scorers. Pressey is a 4 star point guard with amazing handles and scoring capabilities. They also snagged perhaps the nation's best JUCO prospect in Ricardo Ratliffe, a 6'8 all-everything big man from Florida.
Connecticut – SF Roscoe Smith(37), 2011 signee PG Shabazz Napier(98)
Despite re-occuring health problems and an NCAA violation, coach Calhoun still has it when it comes to recruiting. Next season he gets a potential star in Smith, who is a highly regarded 4 star scorer and distributor from the SF position. Napier is a rising 4 star recruit enrolling early and should push Kemba Walker for the starting point guard spot. If not, he could prove invaluable as another backcourt scoring option.
Baylor – PF – Perry Jones(9)
Fresh off a Final Four run, the Bears have reloaded, especially up front with intriguing prospect Perry Jones. The enormously talented player could easily develop into the best player in the class because of an amazing skill-set, built into his mighty 6'10 frame. Although he currently doesn't blow you away with stats, he has the potential to be a game-changer.
Allen Moll has been a lifelong NBA and NCAA College Basketball fan who watches and studies games religiously, and coaches youth basketball in his native Lehigh Valley region of Pennsylvania. Allen also provides content to Bleacherreport.com, Upperdeckblog.com, in addition to being a tenured NBA and NCAA columnist for TheHoopDoctors.com.