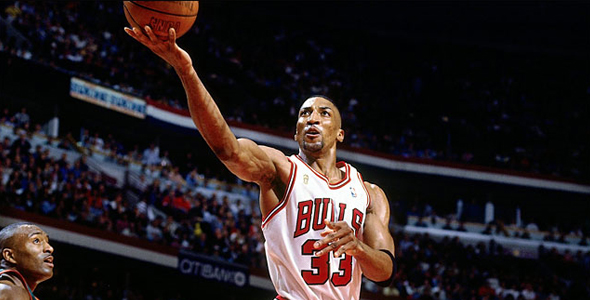 August 27, 2010 – Kevin Burke
The great Scottie Maurice Pippen was recently inducted into the Naismith Basketball Hall of Fame. Pippen's multi-dimensional skill-set, on both the offensive and defensive side of the ball, truly made him unique. His tools were rare for a guy of his size. A six-time NBA Champion and one of the NBAs 50 greatest players of all-time, his greatness is undeniable. The Chicago Bulls have decided to honor Scottie for all he has done for the franchise. They will unveil a statue of him at the United Center at some point this coming season.
Pardon me, but I have to be cynical for a second. Why did that decision take so long? It is an excellent gesture, but shouldn't that have been done some time ago? Michael Jordan haters will say that the Bulls wouldn't have won any titles without Pippen, so Scottie was equally as important. I don't know the answer to that, and we'll never know now. However, Scottie's importance in that run is inarguable.
I look at the Utah Jazz who have statues of both Karl Malone and John Stockton, side by side, outside of EnergySolutions Arena. That's fitting because each played an equal role in earning their zero rings. Also, I understand that Jordan's statue was erected more than a decade ago in honor of his first retirement, but I often wondered why Scottie didn't have something to publicly honor him.
Naturally, Pippen's legacy would have been different if he never played alongside Michael Jordan. Who knows how we would view him if he were ever "the man" of a team.  The better question is, could he have led a team to a championship if there were players placed around him based on his style of game? I bring this up because he will forever be regarded as the Robin to Jordan's Batman.  Hopefully this statue will help erase that.
What I do like about all of this is that it sounds like the statue will be in the United Center, while Jordan's is outside. I agree with not putting them side by side because if that were the case, spectators would pay more attention to MJs even though Scottie's would be right next to it. This way, Scottie gets his own well deserved shine. In any event, this is an excellent gesture by the Bulls and I'm happy that Pippen is getting this sort of respect.
"Words really can't express my feelings. It's an unbelievable honor and truly amazing. It's something you dream of as a kid growing up, but you can never foresee those childhood fantasies becoming reality. You see statues of individuals who have done great things and made their mark on history, but as a basketball player, you never really think about arriving at this point. It's an amazing honor for the Chicago Bulls to do this for me," Scottie told the Bull team website.
Obviously he's flattered and appreciative, but I wonder deep down if he's thinking, "about time".
If you're looking for your everyday, predictable basketball talk, then go somewhere else, because Kevin Burke of The Kevin Burke Project brings provocative, thought provoking content about basketball as only he can. Kevin also hosts The Hoop Doctors weekly podcast show, which you can subscribe to for free on iTunes.