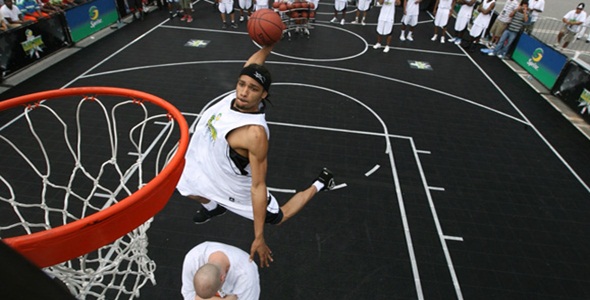 August 16, 2010 – Allen Moll
It's no secret that some of basketball's greatest dunkers are beginning to surface from the amateur ranks. After all, the NBA Slam Dunk Contest hasn't been exciting for a number of years now, especially since a number of top flight players like Lebron, D. Wade, and Kobe refuse to participate. Although extremely talented, it just isn't as entertaining to watch Nate Robinson win another dunk crown after failing on 15 attempts to complete 1 dunk, than it was to watch Jordan take off from the foul line or Dominique throwing down a thunderous two-footed windmill.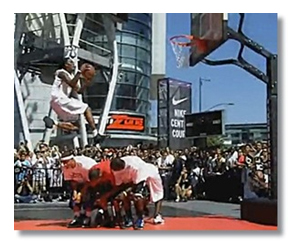 Perhaps TheHoopDoctors.com should be paying more attention to the amateur ranks as players from the NCAA and HS levels, as well as the street-ball circuit have been much more fun to watch than their professional counterparts, at least when it comes to dunking. Who could forget Kansas recruit Josh Selby putting on a show in winning the 2010 Powerade Jamfest Dunk Contest, former Vermont standout Marqus Blakely fantastic performance in winning last season's NCAA Dunk Contest, or even 17 year old Deuce Bello pulling off the ever popular Eastbay Funk during live game action.
But what transpired last weekend outside Staples Arena in LA during Nike's 3-on-3 Tournament is being described as quite possibly the "Greatest Dunk Contest Ever." While hoops fans filtered in to watch some of the great 3-on-3 game action, the highlight of the event had to be the Dunk Contest. The event featured some of the best amateur dunkers on the planet including the newest member of the Team Flight Brothers crew James "Flight" White, "T-Dub" of Sprite Slam Dunk fame, Golden Child, Jus Fly, Air Dogg, Werm, among others.
Many favored the former D-League and NBA high flyer White, but an injury kept him somewhat grounded in his dunk attempts which opened the door for the indomitable T-Dub and Werm to show out in the Finals. Although Werm amazingly jumped over 3 spectators on one of his jams, the unbelievable hops and athleticism of the barely 5'9 T-Dub won out with a 720 dunk on his final attempt. While some will argue it was really a 540 with a twist at the end, the event winning jam is spectacularly entertaining nonetheless.
Check out footage of the 2010 Nike 3-on-3 Slam Dunk Contest:
Allen Moll has been a lifelong NBA and NCAA College Basketball fan who watches and studies games religiously, and coaches youth basketball in his native Lehigh Valley region of Pennsylvania.  Allen also provides content to Bleacherreport.com, Upperdeckblog.com, in addition to being a tenured NBA and NCAA columnist for TheHoopDoctors.com.