August 3, 2010 – Allen Moll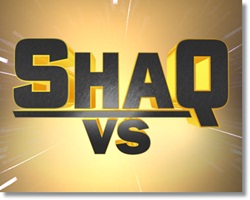 Considering the fact that 4 time NBA Champion and future 1st ballot Hall of Famer Shaquille O'Neal is still begging teams for a job for next season, the newest behind the scenes footage of his TV show "Shaq VS" isn't helping his cause. In the segment, the big man decided to take on competitive eating champion Joey Chestnut, and others, in a hot dog eating contest. It's nearly the equivalent of filming yourself stealing from a department store, then showing that footage to the store manager while filling out an application to work there. Not a good idea.
Even though this doesn't quite measure up to some of his other notable contests like fighting Oscar De La Hoya or taking on Steelers quarterback Ben Rothlisberger, it definitely beats taking a look at his self described "pretty feet". Maybe he should be using his time more wisely like practicing those dreaded free throws. I know, I know,………… you can't teach an old dog new tricks.
In all seriousness, even after seemingly puking up his first dog, Shaq seems to be holding his own early on until Joey decides to show off his hot dog eating prowess mid-way through the footage. Unfortunately because no one wanted to reveal the ending, we can pretty much make the assumption that the currently unemployed "Shaq Diesel" came out on the losing end. I guess we all will just have to wait and see when the show airs.
We're all pulling for you to find a new gig for next season big fella. Just don't let too many prospective employers see this footage and surely don't want to be sitting at the table with that dude sporting the giant afro too much longer.
Update – you can check out who won the contest here.
Allen Moll has been a lifelong NBA and NCAA College Basketball fan who watches and studies games religiously, and coaches youth basketball in his native Lehigh Valley region of Pennsylvania.  Allen also provides content to Bleacherreport.com, Upperdeckblog.com, in addition to being a tenured NBA and NCAA columnist for TheHoopDoctors.com.