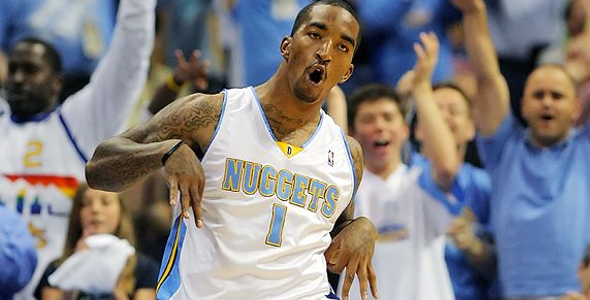 August 23, 2010 – Dr. Browntorious
NBA Fanhouse has a source who claims that the Denver Nuggets are actively looking to trade J.R. Smith now rather than let him walk for nothing in return next year when his contract expires and he becomes a free agent. The feeling is that management believes Smith to be a good energy player off the bench, but doesn't think he warrants the type of lucrative contract he will likely be seeking next year during free agency at this point in his career.
A source close to the situation said the Nuggets are looking to trade the erratic Smith, who is entering the final year of a contract that will pay the shooting guard $6.03 million.

There have been trade rumors before about Smith since he joined the Nuggets in 2006, but they have lacked validity since Mark Warkentien, once Denver's vice president of basketball operations, was adamant about not trading Smith. But Warkentien's contract was not renewed earlier this month and Smith's biggest supporter was gone. It was Warkentien who acquired Smith in 2006 from Chicago for the low price of two second-round picks and the non-guaranteed contract of Howard Eisley, who was waived.
Smith has has a very close relationship with Nuggets star Carmelo Anthony since coming to Denver. It will be interesting to see how 'Melo reacts to the news that his pal J.R. is on the trading block. Especially considering the fact that Carmelo has been debating whether or not to resign with Denver or leave at the end of his contract next year. Rumor has it that the New York Knicks are a likely destination for 'Melo next summer to join Amare Stoudemire.