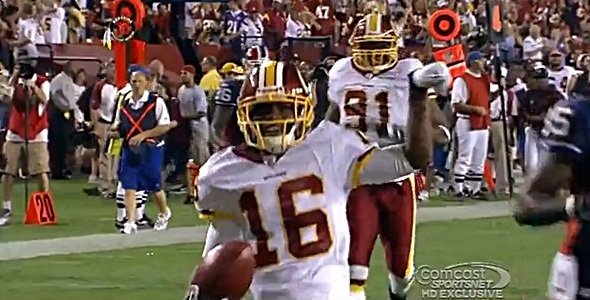 August 20, 2010 – Allen Moll
Apparently John Wall mania is still spreading like wildfire in the Nation's Capitol, as yet another professional athlete, albeit from the ranks of the NFL, is caught on camera doing the now famous "John Wall Dance." During last weekend's pre-season tilt between the Washington Redskins and Buffalo Bills, undrafted rookie Brandon Banks returned a punt 77 yards for a touchdown, then proceeded to do the John Wall Dance.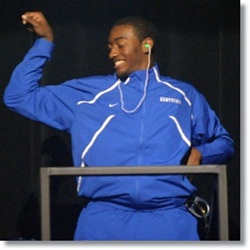 If it seems like a random act of appreciation for Wall, recently chosen by the Wizards as the #1 overall pick in the NBA Draft, it isn't since Banks and Wall both attended the same high school back in Raleigh, North Carolina. Wall played his first two years at Garner HS near Raleigh before moving into the city of Raleigh and changing schools, while Banks is a graduate of Garner. Banks was also a national track champion and former standout at USC.
Earlier that evening Wall sent out via his Twitter account that he was going to be sitting in the front row during the game. So Banks decided to take matters in his own hands by single-handedly helping his team win and at the same time giving a shout out to Washington D.C's newest celebrity.
You would think that Wall's now signature dance craze would have started to lose some steam now that it is the start of football season, but Banks has proved that not to be the case. Surely many of you are getting tired of seeing Magic Johnson doing the Wall, NCAA Dunk Champion Marqus Blakely doing it, and even Skip Bayless on ESPN's First Take doing the dance, but take a look at just one more before the NBA season begins.
Allen Moll has been a lifelong NBA and NCAA College Basketball fan who watches and studies games religiously, and coaches youth basketball in his native Lehigh Valley region of Pennsylvania.  Allen also provides content to Bleacherreport.com, Upperdeckblog.com, in addition to being a tenured NBA and NCAA columnist for TheHoopDoctors.com.