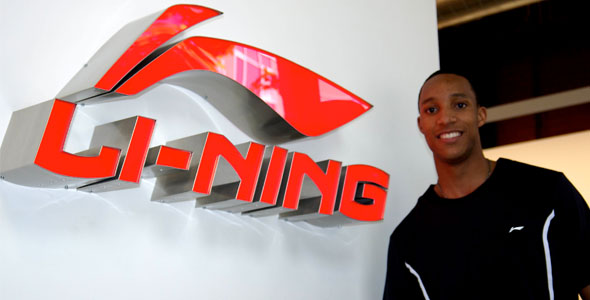 Earlier this month the United States was proud to finally get Baron Davis' BD Doom line of footwear and apparel available thanks to a special partnership between Li-Ning and Champs Sports.  But Li-Ning has not stopped there in their recent efforts to increase their presence in America.  The Chinese athletic apparel and footwear company announced Monday a long-term agreement with Philadelphia 76ers rookie forward Evan Turner.
Turner, the second overall pick in the 2010 NBA Draft, is coming off a remarkable Senior season at Ohio State that saw him return the court after suffering a broken back in almost half of the expected recovery time.  Not only was Turner able to return to the court, but took the Buckeyes from worst to first in the Big Ten, and eventually all the way to the Sweet Sixteen.  He made a sweep of the various National Player of the Year awards and was named the Big Ten Conference Male Athlete of the Year for all sports.
This is the second year in a row Li-Ning has signed the second overall pick, inking the Memphis Grizzlies' center Hasheem Thabeet to a three year deal following the 2009 Draft.  But most members of the basketball community, your author included, believe that Evan Turner's impact on the Philadelphia 76ers will be far more immediate and drastic than Thabeet's.
The specific terms of the long-term deal have not been disclosed, though Turner will get his own signature shoe and apparel line in the second year of the deal, but expect for him to become a large part of Li-Ning's marketing efforts immediately.
"This is truly a game-changing moment for the Li-Ning brand," Brian Cupps, Li-Ning's brand initiative director for basketball, said in a news release. "Adding a supreme young talent like Evan Turner sends a message to the global basketball community that Li-Ning basketball is committed to being a player on the global stage."
The versatile 6-7 forward is not only a huge addition to a 76ers team that will be rebuilding under the leadership of legendary coach Doug Collins, but also a great addition to the Li-Ning family.  His unbelievable work ethic and infectious personality will make him a quick fan favorite not only in Philadelphia, but in the hearts of basketball fans everywhere.
A quick refresher on the athleticism and versatility of the Ohio State grad –