July 9, 2010 – Kevin Burke
For all of the money that he has made, for all of the fame and recognition that he has earned, for all of the God-given gifts that he has been blessed with, the last person on Earth that I wanted to be last night was LeBron James. Regardless of what words came from his mouth during "The Decision" last night, he was in a lose-lose situation. A lose-lose situation like we've never before witnessed (no pun intended) in all of sports, not just basketball.
From the time we woke up Thursday morning, we immediately heard that everyone's "sources" said that the likelihood that LeBron would end up in Miami was great. That was a change from what we heard earlier in the week. On Tuesday, I thought he would be a Bull. On Wednesday, I thought he may be a Knick. If nothing else, it made for great theatre.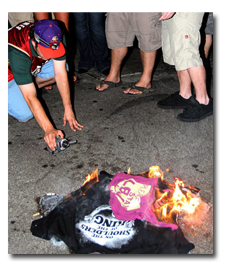 On the surface, LeBron's decision to join Dwayne Wade and Chris Bosh in Miami would leave anyone with a sour taste in their mouth because it looks as if he's taking the easy way out en route to an elusive NBA Championship. What has somehow gotten lost in all of this immediate reaction is that LeBron turned down the option to make more money to stay in Cleveland, and more importantly – whether or not anyone would like to acknowledge it, he has indirectly damaged his brand and his ultimate legacy because if they win in Miami, he won't have to lead them. He was willing to sacrifice all of that. An athlete actually put winning above all. Isn't that a crazy, rare notion? We criticize athletes all the time for putting money ahead of winning. When one of the biggest athletes on the planet decides to do the opposite, it's a bad thing? Did I also mention that the proceeds from "The Decision" made more than $1M and will go towards the future of children?
I can see how people got rubbed the wrong way about the way this entire thing played out. The fact that there was even an hour long special about this is interesting within itself. Would it have gone over better for him if he announced it quietly? Probably, but, we've never witnessed (there I go again) a more coveted free agent like this, so I guess that comes with the territory. The buildup turned people off. Rather, it pissed people off. LeBron never went to college so I guess this was his opportunity get recruited and to have this type of announcement. He started giving his answer to Jim Gray (I still have no idea how Jim Gray of all people got that interview) by saying "I've decided to take my talents to…". It doesn't get more college than that. But why was LeBron at the Boys and Girls Club in Greenwich, Connecticut? There were two general guesses why.  The first reason was that he was going to join the Knicks and Greenwich is about 15 minutes from the Knicks practice facility and the airport that the team flies in and out of (and about an 45 minutes from where I call home. Let me tell you, it felt like Christmas eve here on Wednesday). I thought that was a dumb reason because the Knicks don't have practice any time soon, nor do they have a road game coming up.  The second reason, and the one I actually bought, was that he would be attending Carmelo Anthony's wedding on Saturday in New York.  As it turns out, neither one of those were the answer because he landed in Miami last night after his announcement. The Boys and Girls Club of America is headquartered in Atlanta, so I don't quite understand why it was in Connecticut. But I guess it's really not that important in the grand scheme of things.
As a Knicks fan, for me to say that LeBron should be applauded, not hated, is big. The Knicks pioneered this whole league-wide initiative to clear cap space for LeBron in 2010, and the day never came. They were the first ones to do it, back in 2008. Then other teams caught on and starting doing the same. The Knicks forfeited two seasons for this summer and so far only have Amar'e Stoudemire (who I'm excited about) to show for it. The most infamous man in recent Knicks history is Isiah Thomas. Can you believe that the Knicks actually sent Isiah to Akron to go talk to and convince LeBron to come play for the Knicks? I think that is hilarious, but I digress.
From the moment the interview started, he looked tense and nervous. That immediately told me that he wasn't going back to Cleveland. During the interview and before LeBron announced where he was going, Jim Gray asked him what was most important in him making his decision. He said winning. That excluded New York and New Jersey (who never really had a shot in my opinion). That left only the Bulls, Cavs and Heat, but again, all day we heard that he was going to Miami. The fact that he was so nervous should tell you that it was genuine because he knew he was about to let a lot of people down. But, Cleveland doesn't want to hear that. They had already begun burning his jersey.  And Cavs owner, Dan Gilbert, should be ashamed of himself. He posted a letter to Cavs fans on the team's website not too long after LeBron made his decision. Here's some of what he said…
"It's not about him leaving. It's the disrespect. It's time for people to hold these athletes accountable for their actions. Is this the way you raise your children? I've been holding this all in for a long time. You simply don't deserve this kind of cowardly betrayal. You have given so much and deserve so much more.  In the meantime, I want to make one statement to you tonight: I PERSONALLY GUARANTEE THAT THE CLEVELAND CAVALIERS WILL WIN AN NBA CHAMPIONSHIP BEFORE THE SELF-TITLED FORMER 'KING' WINS ONE. You can take it to the bank. This shocking act of disloyalty from our home grown 'chosen one' sends the exact opposite lesson of what we would want our children to learn. And 'who' we would want them to grow-up to become."
Dan Gilbert is 48 years old and wrote a childish misguided letter. I'm embarrassed for him. The double standard is that if LeBron responds, he'll be the bad guy. Let's be clear: LeBron owes nothing to anybody. The notion that he owed something to Cleveland is nonsense. How often do we see players get traded or released without any regard to them? It happens all the time. If LeBron stayed in Cleveland and in 10 years they thought that his skills diminished to the point where he could no longer help the team, they would get rid of him. He just beat them to it.
I said before that Kobe Bryant was probably the most hated guy in the league amongst NBA fans. Well, Kobe can breath easily now because he was just unseated. That being said, I still feel that we should applaud this tough decision that LeBron has made for all that was willing to sacrifice in the name of winning. At the end of the day, winning is what it's all about.
If you're looking for your everyday, predictable basketball talk, then go somewhere else, because Kevin Burke of The Kevin Burke Project brings provocative, thought provoking content about basketball as only he can. Kevin also hosts The Hoop Doctors weekly podcast show, which you can subscribe too for free on iTunes.