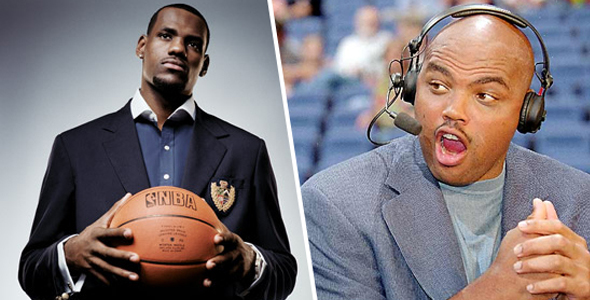 July 19, 2010 – Kevin Burke
A few weeks ago, basketball fans learned a lot about LeBron James. Above all, what I learned was that he is wired a bit differently that I initially thought. I am not going back on my stance that LeBron should be applauded for his decision to leave Cleveland, because he has willingly sacrificed so much in the name of winning. However, this firestorm of criticism has no end in sight as of right now.
Before he decided to "take his talents" to South Beach, he was assured that he would have been mentioned with the Michaels and the Larrys and the Magics of yesteryear. The general consensus is that that is no longer the case. That is apparently the thinking of one of the aforementioned. After playing in a celebrity golf tournament in Nevada, Michael Jordan was recently asked what he thought about LeBron's decision to team up with the competition, rather than try to beat them. Just as I thought, Jordan responded, "There's no way, in hindsight, I would've ever called up Larry, called up Magic and said 'Hey look, let's get together and play on one team.' But that's…things are different. I can't say that's a bad thing. It's an opportunity these kids have today. In all honesty, I was trying to beat those guys." That quote speaks volumes and is debilitating to LeBron's legacy.
LeBron has made no secret that he idolizes Jordan and is the reason that has worn #23 up until he just recently changed it to #6. In all fairness to Michael, since he retired, he has had to hear both pundits and basketball novices rave about how either Kobe Bryant or LeBron James either is, or will be better than him. That's primarily because we live in the now and Jordan isn't as fresh in our minds any longer (For the record, I'm not one of those people). I'm willing to bet money that those talks annoyed Jordan and this quote provides evidence of that. MJ was the second happiest man on Earth after hearing LeBron's decision. The first was Kobe because he is no longer the most hated player in the NBA, and the second is Mike because the "is LeBron better than Mike?" talks have forever come to an end. He now just has Kobe to deal with, who is wired the same way he is. By that I mean that neither would ever team up with the competition.
Another all-time great that had a strong opinion about LeBron was Charles Barkley. Before Jordan made his comments, Barkley said "he'll never be Jordan. This clearly takes him out of the conversation. He can win as much as he wants to. There would have been something honorable about staying in Cleveland and trying to win it as 'The Man' …LeBron, if he would've stayed in Cleveland, and if he could've got a championship there, it would have been over the top for his legacy, just one in Cleveland. No matter how many he wins in Miami, it clearly is Dwayne Wade's team."
Again, I agree with Barkley in that LeBron's legacy takes a hit, but how much merit do Barkley's comments really have? I seem to remember Sir Charles himself publicly complaining while in Phoenix that he wanted to play for a contender before he retired. He got his wish at age 33 when he was dealt to the Rockets. The recently removed, 2-time defending NBA champion Rockets. Many feel as if he complained his way out of town. He joined Hakeem Olajuwon, Clyde Drexler, Kenny Smith and Mario Elie. Not too shabby.
 Granted, Barkley was past his prime and wasn't considered the best player in the league any longer, as LeBron is, but still, there are some similarities. The Rockets were loaded with big names and it was clear that Barkley wanted to be a part of something like that. LeBron has done the same thing. In Chuck's defense, he was the man for years in both Philly and Phoenix beforehand and tried to do it as the centerpiece.  But, he couldn't get it done.  Neither could LeBron.  James left via free agency and if Barkley was a free agent that summer, I'm sure he would've left on his own will as well because his chances of winning were slipping away. LeBron feels the same way about his chances if he stays in Cleveland.  I understand that it is his job as an analyst to give his candid opinion, but it comes across hypocritical. MJs critique has much more value than Charles' opinion.
If you're looking for your everyday, predictable basketball talk, then go somewhere else, because Kevin Burke of The Kevin Burke Project brings provocative, thought provoking content about basketball as only he can. Kevin also hosts The Hoop Doctors weekly podcast show, which you can subscribe too for free on iTunes.