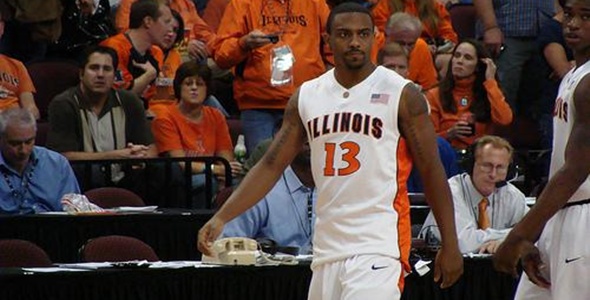 June 18, 2010 – Allen Moll
After arriving at the University of Illinois on an academic scholarship in 2007 and earning a full ride through basketball, Jeff Jordan, the oldest of NBA legend Michael Jordan's sons, has officially been allowed to transfer from the Fighting Illini. While trying hard to live up to the immense hype of being arguably the NBA's greatest player's son, Jeffrey Jordan's career as a basketball player may be over after only his junior season.
While the ESPN college basketball hype machine tried to feature Jordan and the Illini during the '07 season, by telecasting a number of Illinois games, Jordan became little more than a defensive role player off of the bench for coach Bruce Weber. After leaving the university following the '08-'09 season, and possibly hanging up his Air Jordans for good, Jeff returned for last season and helped Illinois to a 21-15 record and an NIT berth. It was believed that the player intended to focus on academics instead of basketball.
It's unclear if the eldest Jordan will continue his playing career elsewhere or once again focus on finishing up his class work and getting a 4 year degree. Surely Jeff wants to forge his own way in the world, but he will surely have a position somewhere within the Charlotte Bobcats organization to fall back on now that his father is the new majority owner of the club.
Jeff Jordan played in 92 career games and averaged only 1.2 ppg in 3 seasons at Illinois after he and his brother Marcus came highly touted from Loyola Academy in Highland Park, Illinois. Brother Marcus now stars for the University of Central Florida.
Check out Jeff Jordan jamming like his daddy as a HS senior in 2006:
Allen Moll has been a lifelong NBA and NCAA College Basketball fan who watches and studies games religiously, and coaches youth basketball in his native Lehigh Valley region of Pennsylvania. Allen also provides content to Bleacherreport.com, Upperdeckblog.com, in addition to being a tenured columnist for TheHoopDoctors.com.