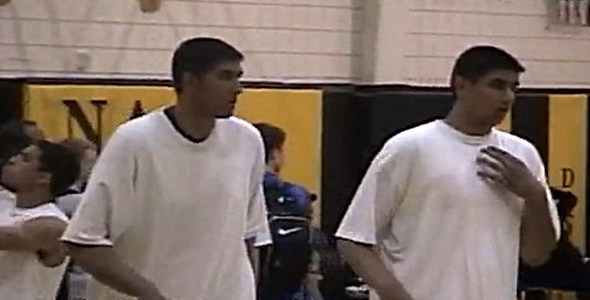 June 4, 2010 – Allen Moll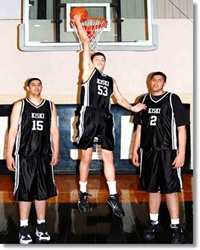 Ever since the original pairing of Ralph Sampson and Hakeem Olajuwon created a seemingly insurmountable wall of defense on the early 1980's Houston Rockets squads, coaches and scouts on every level of basketball have been searching for their own updated version of the "Twin Towers." For a time in the late 90's the San Antonio Spurs came the closest with the duo of 7 footers in Tim Duncan and David Robinson and of course, current NBA ballers Robin and Brook Lopez once formed a 7 foot dynamic duo for the Stanford Cardinal in the college ranks from '03-'06.
But the most recent pair of skyscraping big men, Sim and Tanveer Bhullar, may very well be the next in line to take their talents to the collegiate and possibly NBA levels. While playing at the Kiski School, which is a tiny prep school in central Pennsylvania, the brothers are making great strides in the game of basketball. After moving with their parents from Canada to the states recently, the dynamic duo are putting up some pretty impressive numbers statistically.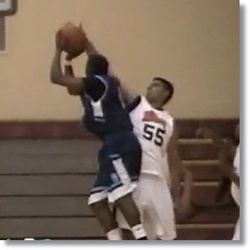 Sim, the older of the brothers is an incoming junior at 17 years old and stands 7'4, and weighs in at 285 lbs. Last season he averaged 16 points, 14 rebounds, and 8 blocks, and has range out to the 3 point line. Younger brother Tanveer, only 15 years old, is a tad smaller than his brother at 7'2 and weighs 260 lbs. Tanveer just finished his freshman campaign averaging 12 point, 11 rebounds, and 8 blocks with an already deadly 15-17 foot range on his jumper.
Although they are still a work in progress, the brothers have made great strides, especially offensively, and have caught the attention of a number of top tier collegiate programs. Older brother Sim has already been offered a full scholarship from West Virginia, with Duke also hot on his trail. Other big schools like Pitt, USC, Texas, Washington St, and others have expressed an interest in the Bhullar boys. Some speculate that Kentucky has the inside track on the brothers because their HS coach Daryn Freedman was once a longtime coaching assistant to John Calipari, the current coach of the Wildcats. Could the next pair of imposing Twin Towers play their college ball in the Bluegrass State and don the legendary blue and white Kentucky jerseys?  Although I'm not sure that a pair of 7 footers fit into coach Cal's drible drive offense.
Check out some highlights of the 7 foot Bhullar brothers:
Allen Moll has been a lifelong NBA and NCAA College Basketball fan who watches and studies games religiously, and coaches youth basketball in his native Lehigh Valley region of Pennsylvania. Allen also provides content to Bleacherreport.com, Upperdeckblog.com, in addition to being a tenured columnist for TheHoopDoctors.com.