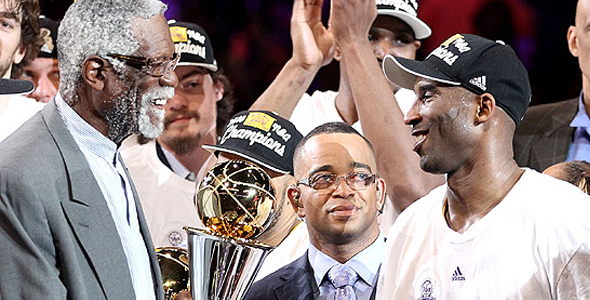 June 18, 2010 – Kevin Burke
No argument can be made against the fact that the Boston Celtics and Los Angeles Lakers are the two most storied franchises the NBA has ever seen. That is a fact. However, the general consensus is that of the two, the Celtics are the more successful franchise of all-time. When you think of the success of the Celtics, you think of Red Auerbach lighting up a cigar, and them winning so many titles in a short period of time (see Bill Russell). But are they really the most successful franchise of all-time?
The Celtics have 17 NBA Championships, and last night, the Lakers captured their 16th. I think that's close enough to call that a wash and throw that out the window. Then I guess you would next take a look at total number of appearances in the NBA Finals. This was the Celtics' 21st appearance and they now have a stellar 17-4 record. This was the 31stappearance for the Lakers and they have a modest 16-15 record. But that's still 10 more appearances for them. The initial reaction is to say that since the Celtics have the better Finals winning percentage, then that tilts the argument in their favor. I don't think that's the case because the Lakers' 15 second place finishes still means that they have been elite for a very long time.
Another reason that the Lakers can be viewed as the most successful franchise of all-time is overall relevance throughout their history. In their 64 year history, the Celtics have missed the playoffs 16 times. In the 62 year history of the Lakers, they have missed the playoffs only 5 times. That means that they have been relevant longer. When you combine that with the number of Finals appearances, the answer to the question, "who is the most successful NBA franchise of all-time?" is a lot closer than you think. If you go based on these numbers, then the answer is the Lakers.
If you're looking for your everyday, predictable basketball talk, then go somewhere else, because Kevin Burke of The Kevin Burke Project brings provocative, thought provoking content about basketball as only he can. Kevin also hosts The Hoop Doctors weekly podcast show, which you can subscribe too for free on iTunes.