May 5, 2010 – Allen Moll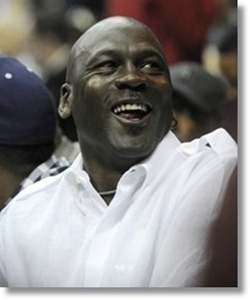 As the NBA's newest majority owner, one of Michael Jordan's first objectives with the Charlotte Bobcats could be changing the team name. While his new team is fresh off a first round playoff loss at the hands of the Orlando Magic, MJ surely has a lot on his plate in his newest venture, as the first former player to become an owner of a franchise.
Although the Bobcats as a franchise have to be elated at the fact that they have made their first playoff appearance in 8 years, Jordan must face the hard reality that the club has a lot of problems. They are locked in on a very good, but not great core of players for at least another 3 seasons, their coach, Larry Brown, albeit a legendary coach, has a wondering eye when it comes to coaching gigs and has already been linked to making a return trip as coach of the Philadelphia Sixers, and the franchise as a whole is losing money.
Upon news that Jordan had decided to take over the franchise, everyone's thought was how long could the game's greatest player and most intense competitors play the role as a good owner sitting on the sidelines and making moves behind the scenes? During their playoff series with the Magic, Jordan could be seen sitting courtside with his team, even getting involved by helping coach Larry Brown by criticizing officials. With the Bobcats' season over, one way Jordan is thinking of putting his own personal stamp on the team is the rumor that he is actually considering changing their team name away from the "Bobcat" moniker, given to the team by original owner Bob Johnson.
When asked about the change during a recent press conference he replied:
"The thing is that I'm open for anything. It's a commitment. We have to go through the league. It's a process. It's a financial commitment. Am I willing to look at that and say can we go down that road? Yeah. If I get the understanding from the community, from the public, that we need it and it signifies change, yeah, I would do that. But once again, it's a process. It's a $3-million to $10-million investment to do that. I'm not afraid of that, as long as at the backside of that, the public is going to be happy about that, that it's going to be great for the organization. I think it [could be] a new beginning. Yeah, I would do that. I would consider that."
Jordan's statements sounds like a change is coming as part of a new beginning with the franchise. The local papers in Charlotte have been running wild with the possibilities and are running poll after poll, asking readers for their input on a new team name. Not surprisingly, only 25% of those that responded wanted to keep the name Bobcats, with 75% in favor of a change. Some top choices thrown out there by some readers for the new team name were the Flight, Airmen, and my personal favorite, the Jordan-aires.
From a marketing standpoint, a new name may make sense financially in terms of initial t-shirt and jersey sales, but with so many pressing issues on the franchise, changing the team name is an added expense and a priority that MJ should choose to wait on.
What would your suggestion be for a new Charlotte team name?
Allen Moll is an avid NBA and College Basketball fan who watches and studies games religiously and coaches youth basketball in his native Lehigh Valley region of Pennsylvania.  Allen is a regular columnist for thehoopdoctors.com, Bleacherreport.com, UpperDeckblog.com, and his own site, Hoops Haven.