May 8, 2010 – Dr. Dime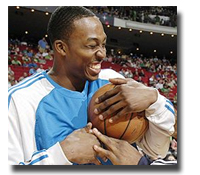 Dwight Howard is a playful dude, even during the NBA Playoffs which is the most pressure packed time of the year. Before a recent second round game against Atlanta, Howard imitates the famous Lebron James Chalk Toss. Although we know Dwight and Lebron are buddies from their time with Team USA, the friendship will most likely be put aside if the Orlando Magic meet the Cleveland Cavaliers in the Eastern Conference Finals for a second straight year.
We have seen Dwight's pretty good Charles Barkley impersonation many times before, but how did he do on this King James imitation?